COMMUNITY CONVERSATION: HIV/AIDS in the Black Community: Past, Present, and Future
February 5 @ 2:00 pm

–

3:00 pm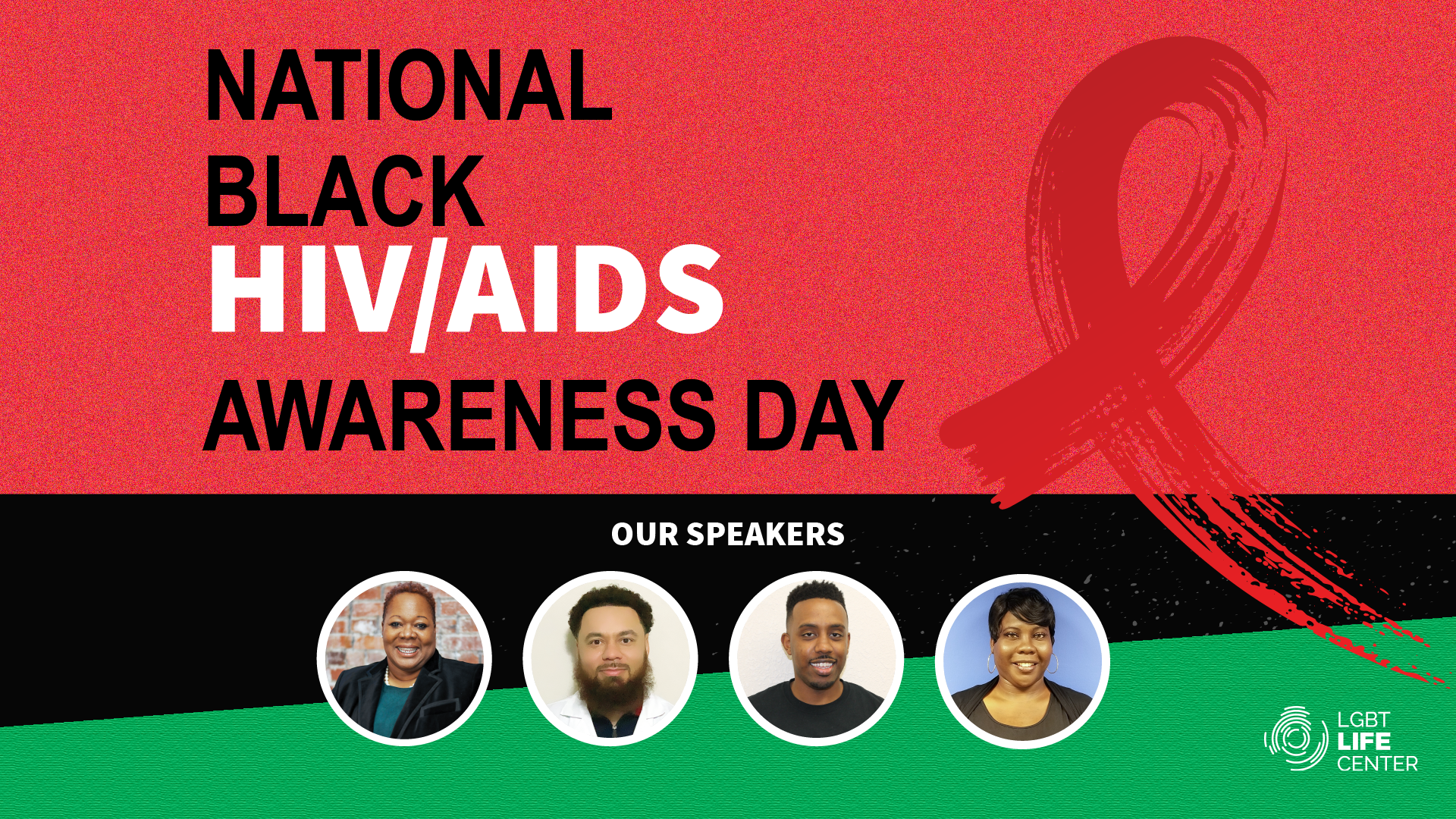 In honor of National Black HIV/AIDS Awareness Day, LGBT Life Center is hosting a community conversation.
Please join us to discuss taking control of your sexual health by learning more about HIV prevention options, how HIV/AIDS affects our community, and how using condoms, taking PrEP and treatment as prevention can stop HIV.
We'll discuss topics like:
– National HIV/AIDS statistics for African Americans
– Why does HIV affect the African American community disproportionately?
– Stigma and medical mistrust
– Why PrEP?
– And more
OUR SPEAKERS:
ALYCIA DICKENS, CAN Community Health (speaker)
Alycia T. Dickens is a recognized leader in the field of HIV/AIDS and Hepatitis C with more than 20 years of experience. She worked as a Family Nurse Practitioner in the Infectious Disease division at Eastern Virginia Medical School for more than 17 years, and is currently an advance practice registered nurse for CAN Community Health in partnership with LGBT Life Center.
DR. MICHAEL BANE, Walgreens (speaker)
Dr. Michael Thomas Bane, PharmD, is a respected HIV/PLHIV community advocate and resource in his hometown of Newport News, Virginia. Michael graduated from Hampton University School of Pharmacy in 2014. He's currently the pharmacy manager of local specialty store with Walgreens, where he works closely with his community to ensure they achieve their best health through medication. Michael prioritizes empowerment and self-advocacy in his work as it is essential for all but certainly for those seeking care at the intersections of their race, gender and sexuality. When he's not advocating for his patients, he serves as the director of the "Kappa Leadership Development League", a mentorship program ran by Kappa Alpha Psi Fraternity, Inc.
 JT WILLIAMS, LGBT Life Center (speaker)
JT Williams, also known as German Chocolate, is a health advocate for improved quality of health for all. As a graduate of East Carolina University, he has been working in the health education and promotion field for over 15 years and in the human health and service field for the past 20 years. JT's goal is to enrich the quality life for all communities and beyond through his creative and charismatic personality. Live and in charge, German Chocolate is good for the heart. Stay tuned for all of the latest updates from this agent of change.
ANJENI' MOORE, LGBT Life Center (speaker)
Anjeni' Moore is a proud advocate of Trans identifying individuals, she has used her lived experience to advocate in religious, political, and social circles. Anjeni' works tirelessly in the field of public health with emphasis on the Trans and gender non-conforming communities. Anjeni' lives by the motto" if I can help someone along the way then my living will not be in vain."
OUR HOST:
MICHELLE REED, LGBT Life Center (host)
Michelle Reed has been employed with LGBT Life Center for 14 years, and overall, has worked in the field of HIV for 17 years. In 2017, Ms. Reed earned a Master of Urban Affairs degree from Norfolk State University. Ms. Reed remains committed to working for and empowering marginalized and disenfranchised communities.
Reader Interactions