Visual artist, D Hill, is a trans man breaking down the barriers of gender through art and self-expression.
We had the chance to catch up with him and ask a few questions about one of his current works, TRAN(S)junction (which is currently being exhibited in the Offsite Gallery of the World Trade Center in Norfolk), his life, his art, as well as his struggles.
Meet D. He is a voice of the black, queer community. D recently made a Kickstarter to land one of his works into Norfolk Arts — it met its goal in 8 days. D's art is honest, raw and isn't afraid to step on the toes of "normal."
What's your name?: D Hill
Where do you currently live? I live and work in Orange County, located in Southern California.
Tell us about the type of art you produce. What's your philosophy about your work?: I create conceptual videos, photographs and performance art that is centered around gender fluidity. I say conceptual because I purposely want to invite the viewer to think beyond the object and more about the meaning. My philosophy is always to apply my personal experience and then work outwardly. The more honest I am through my art work, the more of an impact it has on the viewer. When I view artists work such as Zachary Drucker, A.L. Steiner, Wu Tsang, Jacolby Satterwhite, Mark Bradford, Glenn Ligion and Kalup Linzy, I get excited about telling my truth and exploring whichever medium best conveys the message.
You did a Kickstarter to help put your project in the Offsite Norfolk Art Gallery–can you tell us about how that went?: I started a Kickstarter for two reasons: to fund the art materials needed for the exhibition and to participate in the art community on Kickstarter. Crowd funding allows art appreciators to donate to a common cause and help spread the word about existing sub-cultures. My Kickstarter was a success and met its goal within 8 days. I thank all supporters of the arts. Shout out to Rutter Family Foundation of the Arts for providing me a safe and comfortable stay in the NEON District. It was amazing to be there in Norfolk for the week.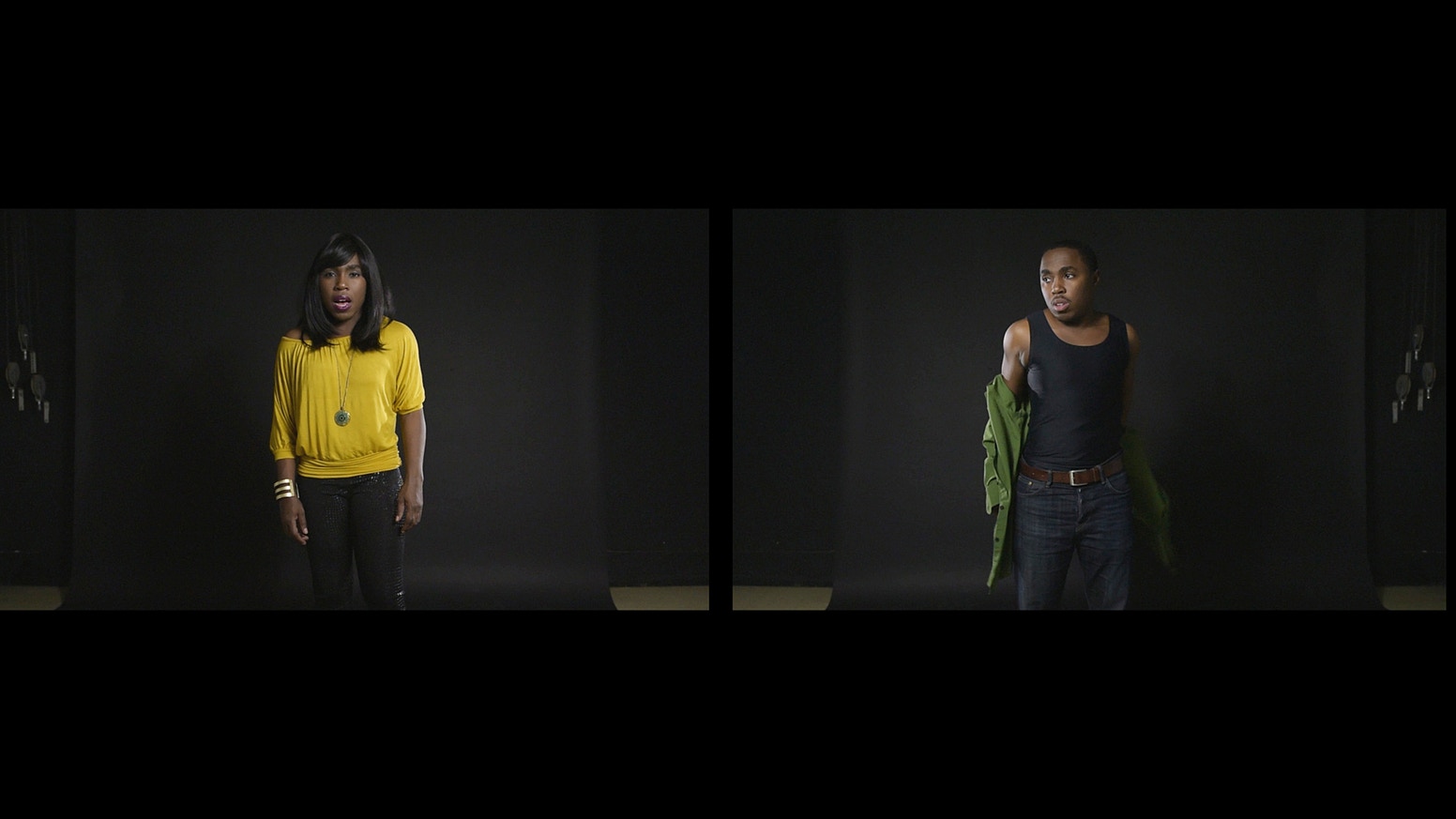 On your Kickstarter you said, "It is very important to spread the word of tolerances and expand the conversation about the complexities of being trans in today's culture." Can you talk more about what you mean by that, and how your art addresses those intolerances and complexities?: Most of my work is personal. I am trans, and it has been challenging with friendships, certain family members and finding a Church to attend.  So when I have those challenges, I add that to my art practice. I know I am not the only one experiencing these moments. By me sharing my vision and thoughts publicly, I am contributing the greater Queer community as a whole.
I use certain words and topics to express in my audio design as an example of complexities. The dialogue talks over itself as contemplation, doubt and confidence all in one video. Then, the images become a visual study of oneself and gesture in time, the still moment.
When I have those challenges, I add that to my art practice. I know I am not the only one experiencing these moments.
Can you share some of your own experiences with intolerance?: I have lost three close friends who did not want to meet the real me as a man. They preferred me as woman. It was hard. I became very nervous to re-introduce myself to people who knew me before the start of my transition. This is common, but I thank God I did not lose my parents. It's difficult for them, but we are working on it each day. They still will not support my art work. One day they will, I hope.
What are you currently working on/what's next for you?: Currently, I am working on "My F***King Prom Dress". I wore my prom dress to the opening and performed the gesture of myself from the past and presented myself in the present. This art performance is about creating dialogue with people in the queer community, black community and general public about being different from the "norm". What does the norm look like today? Is my body still considered different or not? Does people like myself make you feel uncomfortable and why/why not? These are questions to start the conversation, then the conversation goes into a humanity exchange.
I decide where I wear the dress and then start the conversation, either at public appearance or walking through my old neighbors. In my opinion, it's important to start the dialogue and make trans bodies more visible.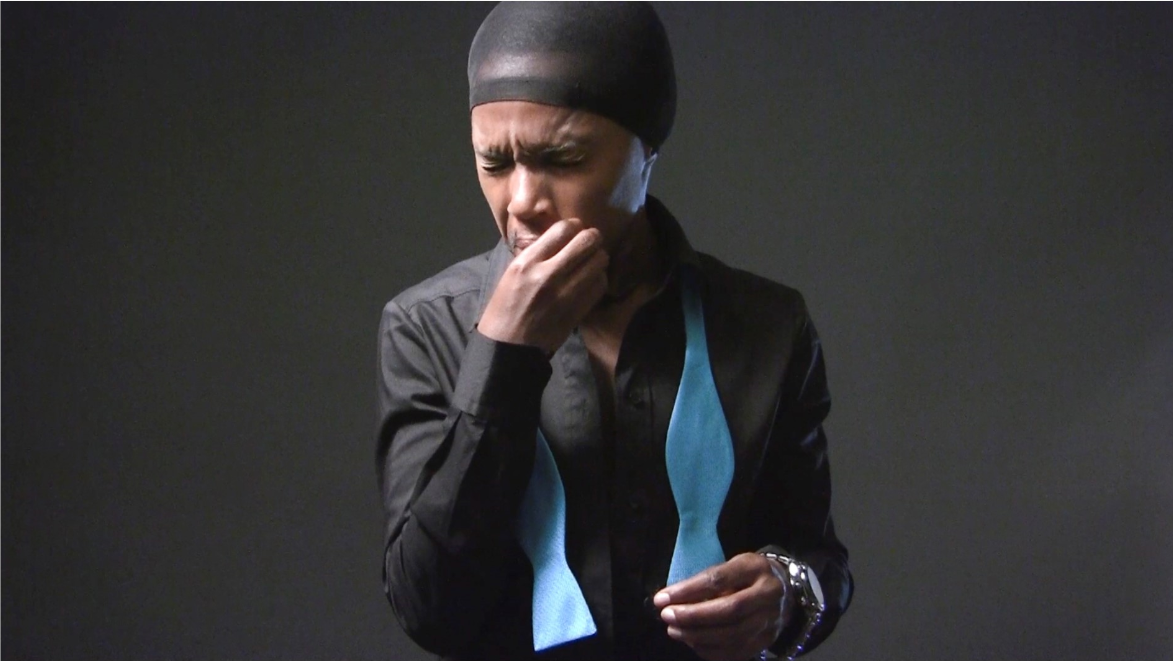 D's project, TRAN(S)junction will be showing at the Offsite Gallery in the World Trade Center of Norfolk until January 12, 2018. As his first solo show, TRAN(S)junction explores gender complexities by enacting & portraying the ideological behaviors of a man & woman. For more information about the exhibit and Norfolk Arts, visit: http://norfolkarts.net/galleries/now-showing/

---
Connect with D!
davettiaphotography.wixsite.com/dhill/
Connect with Norfolk Arts!
http://norfolkarts.net/
Facebook.com/ArtsNorfolk
Instagram.com/Norfolk_Arts
Connect with us!
Twitter.com/LGBTLifeCenter
Facebook.com/LGBTLifeCenter
Instagram.com/LGBTLifeCenter