Corey was formerly our Marketing Manager for 5 years and helped LGBT Life Center (previously Access AIDS Care) with our rebrand that began in 2016 and launched in 2017. He (re)joins us after spending just over a year working for a financial technology company.
He's more than glad to be back working with and for the LGBTQ+ community.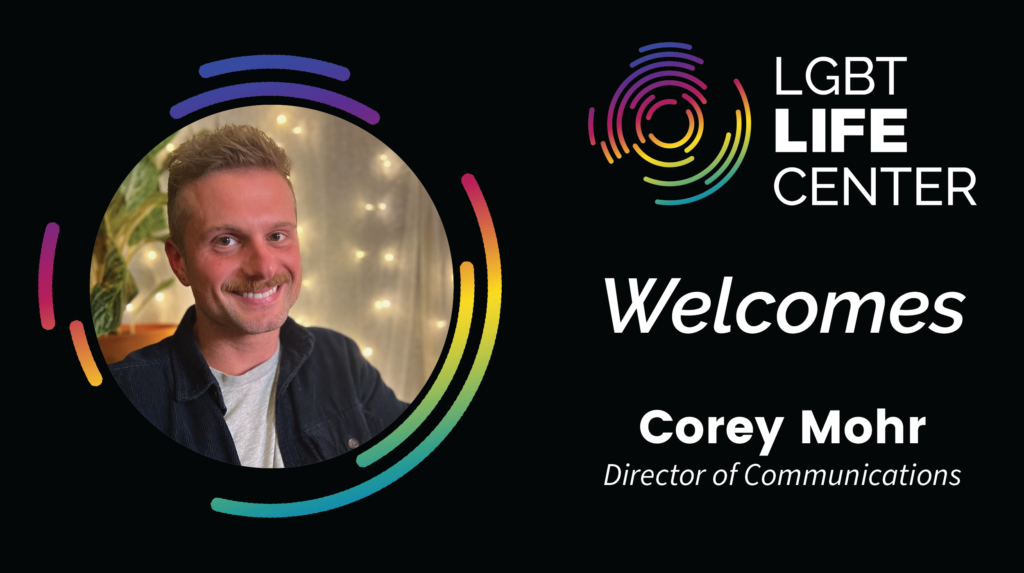 Name/Nickname: Most everyone calls me Corey, but some close friends call me "Snacky C," cause I'm always snackin'
Pronouns: he/him
Job title: Director of Communications
Where'd you come from, and what'd you do there? I started working for political campaigns as a teenager and transitioned to government work after college. Eventually, I started working for TED Conferences, which led me to the non-profit sector. Ten years ago, I started working for an LGBT healthcare non-profit based in Buffalo, NY, and then LGBT Life Center in Hampton Roads in 2016. Just over a year ago, I did a brief stint with a tech company where I learned a lot (perhaps most importantly, that my heart is not in for-profit work).

I'm here to help you with…all things messaging, marketing, press-related, event support, and always happy to talk politics, policy, and about our work at The Center!
How did you become interested in working at the LGBT Life Center?
I've always had a passion for politics and my community; LGBT Life Center is the perfect marriage of the two. I feel incredibly lucky to get to do this work.
What's an interesting thing about you that most people don't know?
I am from a very rural town of 2,000 people, graduated in a class of 27 (public school), was born to a mother of 16 and a father of 15, and was the first person in my family to go to college.

What excites you most about being at the LGBT Life Center?
Our work has a real impact on people's lives and can change how people see themselves and the world. The hearts and minds we impact reverberate globally.


Rapid Fire…what is your favorite…
• Animal – Emperor penguin
• Color – Black or grey
• Song/Music – This changes frequently, but right now, I've got "Hello Sunday" on repeat
• TV Show/Movie – Last of Us, hands-down the best show on TV right now
• Hobby – Not sure if this qualifies as a hobby, but I love to rabbit hole into TV and movie soundtracks. It's a great way to discover new music!
Contact Corey:
corey@lgbtlifecenter.org
757-640-0929, ext. 614
Connect with us!
Tiktok.com/@lgbtlifecenter
Facebook.com/LGBTLifeCenter
Instagram.com/LGBTLifeCenter
Sign up for our monthly newsletter by clicking here.