Behind every successful organization, (they hope) there's an Irma Hinkle. Over her 18 years of service, Irma has worn multiple hats, managed great change, witnessed the passing of many clients and colleagues, and through it all, has remained steadfast in her dedication to this community, organization, and HIV/AIDS service.
We could all use an Irma Hinkle, and we're thankful she's dedicated her service career to the clients of LGBT Life Center.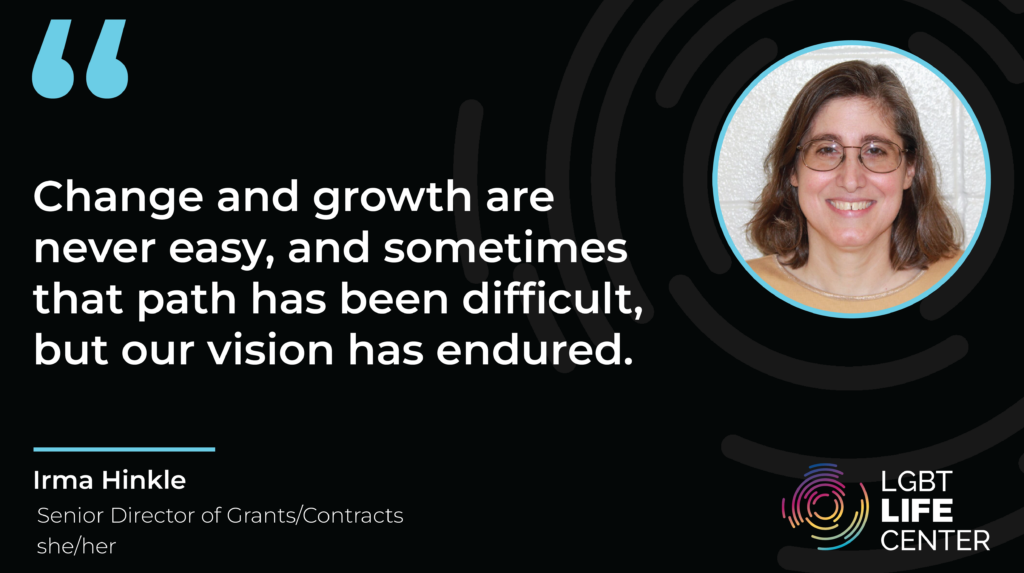 Learn more about Irma:
Name: Irma Hinkle
Title: Senior Director of Grants/Contracts
Pronouns: She/Her
How long have you been with LGBT Life Center? 18 years!
Tell us a little bit about the work you do at The Center?
For much of my career, I have been behind the scenes building programs that address the needs of the populations that we serve. I look at data from local, state, and national sources to identify trends and needs so that we create services that support our community. I write grants to secure the funding to support that work and then help us document that work through reports. I make sure that the services we provide align with the scope of work we were funded to offer and help us adjust when we encounter barriers.  
Tell us about a time you helped a client.
When I talk to clients today, it is about understanding what is needed on a community level.  About 15 years ago, I was facilitating a focus group, and out of this came our first efforts to build a local medical clinic to provide gender-affirming care for trans women. This was designed to address the barrier of having to travel out of the area to Richmond to receive quality care. While we were unable to sustain that clinic, the lessons learned helped us to open the LGBT community center in 2011.  I felt good that I played a small role in creating services that would have an impact on helping people. It is why I got a degree in social work so many years ago. 
What do you love most about your colleagues?
Years ago, someone told me that they were asked about what they were doing with their "dash" meaning the time spent between their birth date and their death. I often reflect on this when I think about the colleagues that I have worked with over my 30 years in the HIV field. I have worked with some of the most dedicated, compassionate, and caring individuals who are driven by a higher purpose or calling to make a positive impact on our community. Many of them have made sacrifices in their own lives to do this work. I am often in awe of them and the work that they do each and every day to make a difference.
What do you love most about working at The Center?
I love that this organization has evolved and changed over the years to provide holistic services. We started as a small pediatric-focused HIV/AIDS services organization then into a more traditional, full-service ASO. As the HIV epidemic changed so did this organization as we grew into an LGBT community center. Change and growth are never easy and sometimes that path has been difficult, but our vision has endured.
Contact Irma:
ihinkle@lgbtlifecenter.org
757-640-0929, ext. 232
Connect with us!
Tiktok.com/@lgbtlifecenter
Facebook.com/LGBTLifeCenter
Instagram.com/LGBTLifeCenter
Sign up for our monthly newsletter by clicking here.