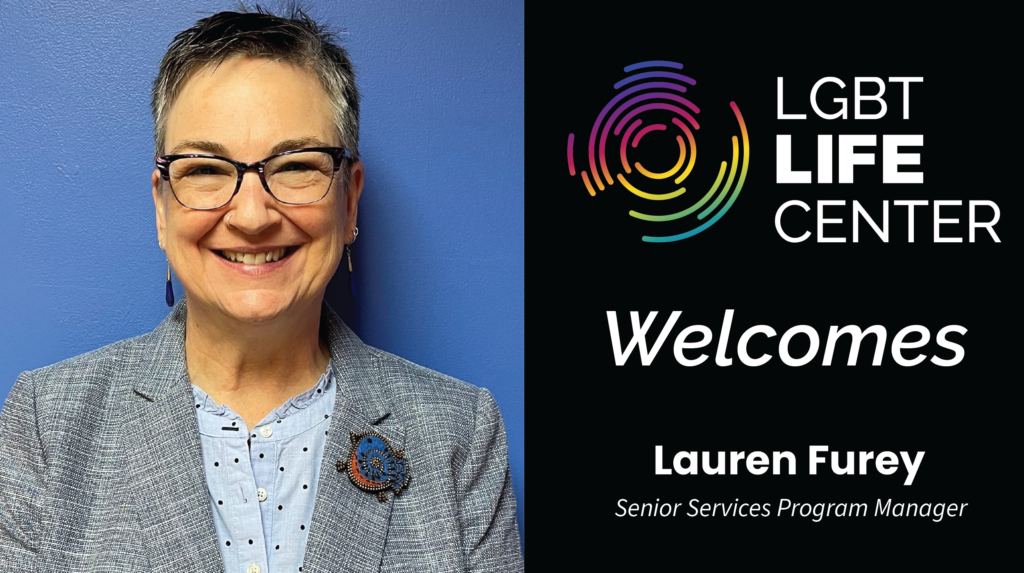 Name/Nickname:  Lauren T. Furey and I go by Lauren (I use my middle initial too because there's a famous chef in Florida named Lauren Furey).
Pronouns: She/her
Job Title at LGBT Life Center: Senior Services Program Manager
Where'd you come from and what'd you do there? I've been in the museum field for forty years and my most recent position was the Manager of Visitor Engagement at The Mariners' Museum and Park in Newport News.
I'm here to help you with: I'm excited to move into the field of human rights, specifically LGBTQ+ seniors.
How did you become interested in this job/type of work? I have always been an activist for the LGBTQ+ community, even before coming out myself (after two husbands). Three of my four children are part of the community. After my last position was eliminated, I thought it was the perfect time to move into the human rights field.
What's an interesting thing about you that most people don't know? Way back in college during my internship, I had to basically live like it was 1810 for four months including doing laundry in copper kettles over the fire, all meals cooked in a fireplace, and hand weaving fabrics! I'm also a professional textile artist, creating art quilts and clergy stoles.
What excites you about joining the LGBT Life Center Team? I am thrilled to be entering a new field that can utilize my skills, talents, and enthusiasm! There are awesome folks here and I'm honored to be working with them.
To learn more about our programs and services for those 50 and better, join our Silver Pride emails: http://eepurl.com/hMA27n
Connect with us!
Twitter.com/LGBTLifeCenter
Facebook.com/LGBTLifeCenter
Instagram.com/LGBTLifeCenter
Sign up for our monthly newsletter by clicking here.