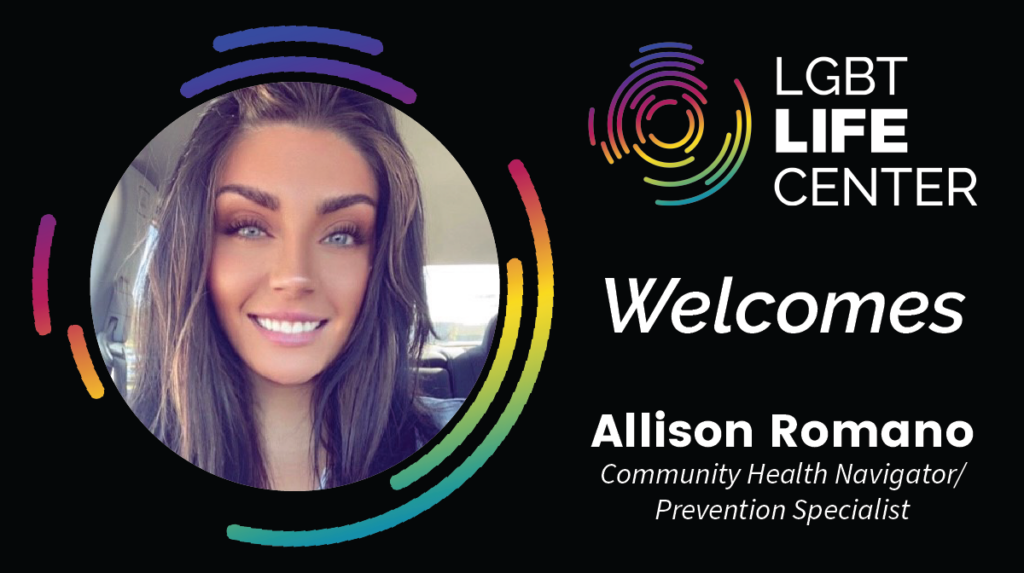 Name/Nickname: Allison or Allie
Pronouns: She/Her
Job title: Community Health Navigator/Prevention Specialist

Where'd you come from and what'd you do there?
I am from South Shore Massachusetts, and relocated to Virginia Beach. At my prior job I was a Prevention Educator for HIV & Infectious Diseases at a small clinic in Brockton, Massachusetts called the C.O.P.E Center where I did everything from STI education with patients and community partners, HIV/HCV and STI testing, and community outreach.

I'm here to help you with…
Improving and empowering individuals to lead healthier lives and promote unstigmatized awareness and care surrounding HIV. I believe that empowerment, education, and access to care help individuals and their communities live healthier and happier lives. Any way that I can help someone achieve this, I will always try my best to do it. 

How did you become interested in working at the LGBT Life Center? 
I became interested in working at the LGBT Life Center when researching the areas of Virginia Beach and Norfolk. I wanted to continue working with an organization that I felt aligned with my values and passions both personally and professionally. I was excited to learn about The Center and its mission to serve those affected, and an organization that I felt was truly making a difference in people's lives.


What's an interesting thing about you that most people don't know?
One interesting thing that most people don't know about me is that I worked on a farm growing up and originally wanted to become a veterinarian!

What excites you most about being at the LGBT Life Center?
What excites me the most about being at the LGBT Life Center is the opportunity to continue doing the work that I am passionate about as well as learn and help a new community and get to know my colleagues. 

Rapid Fire…what is your favorite…
• Animal: Shark
• Color: Purple
• Song/Music: Country, Metal, Punk Rock
• TV Show/Movie: Favorite Movie is "The Peanut Butter Falcon" Favorite TV Show is "90 Day Fiance"
• Hobby: Working out, kayaking, cooking, spending time with my niece
Contact Allison:
aramano@lgbtlifecenter.org
757-640-0929
Connect with us!
Tiktok.com/@lgbtlifecenter
Facebook.com/LGBTLifeCenter
Instagram.com/LGBTLifeCenter
Linkedin.com/LGBTLifeCenter
Sign up for our monthly newsletter by clicking here.