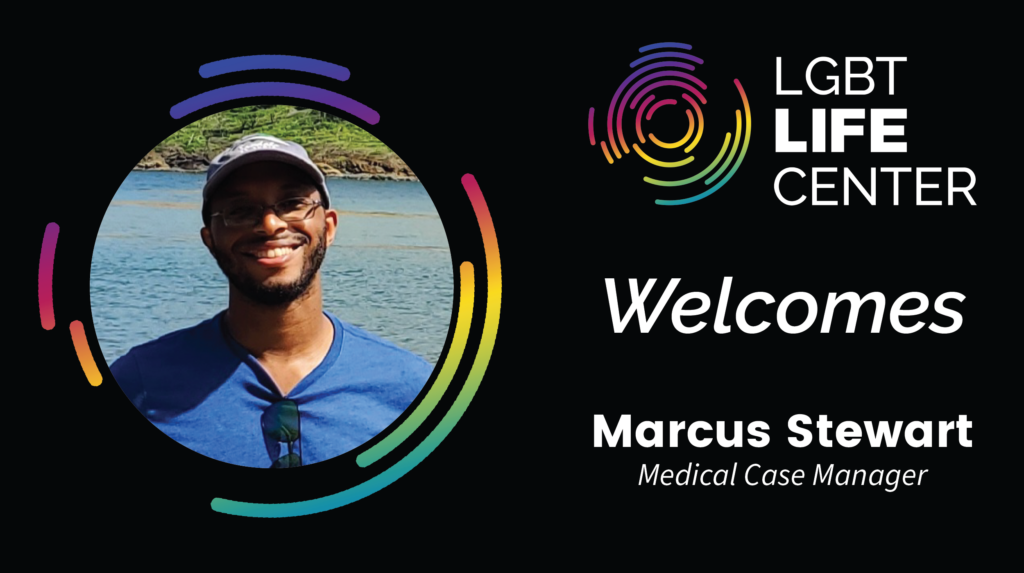 Marcus has dedicated his career to helping people get the resources they need to thrive.
Name/Nickname: Marcus Stewart
Pronouns: He/Him
Job title: Medical Case Manager
Where'd you come from, and what'd you do there? I worked in Applied Behavior Analysis as a Registered Behavior Technician working with kids with Autism.
I'm here to help you with… Linking clients to medical care, encouraging them to take their medication, and getting them the resources needed to take control of their health.
How did you become interested in working at the LGBT Life Center? I've tried to focus my professional career in helping vulnerable or disenfranchised populations. Learning about the services that are done made me want to help.

What's an interesting thing about you that most people don't know? I've been fortunate enough to travel to four other countries across the world.
What excites you most about being at the LGBT Life Center? Working with a diverse group of people.
Rapid Fire…what is your favorite…
• Animal – Tiger
• Color – Blue
• Song/Music – R&B
• TV Show/Movie  – Everything Everywhere All At Once 
• Hobby – Games of all kinds
Contact Marcus:
mstewart@lgbtlifecenter.org
757-640-0929
Connect with us!
Tiktok.com/@lgbtlifecenter
Facebook.com/LGBTLifeCenter
Instagram.com/LGBTLifeCenter
Sign up for our monthly newsletter by clicking here.