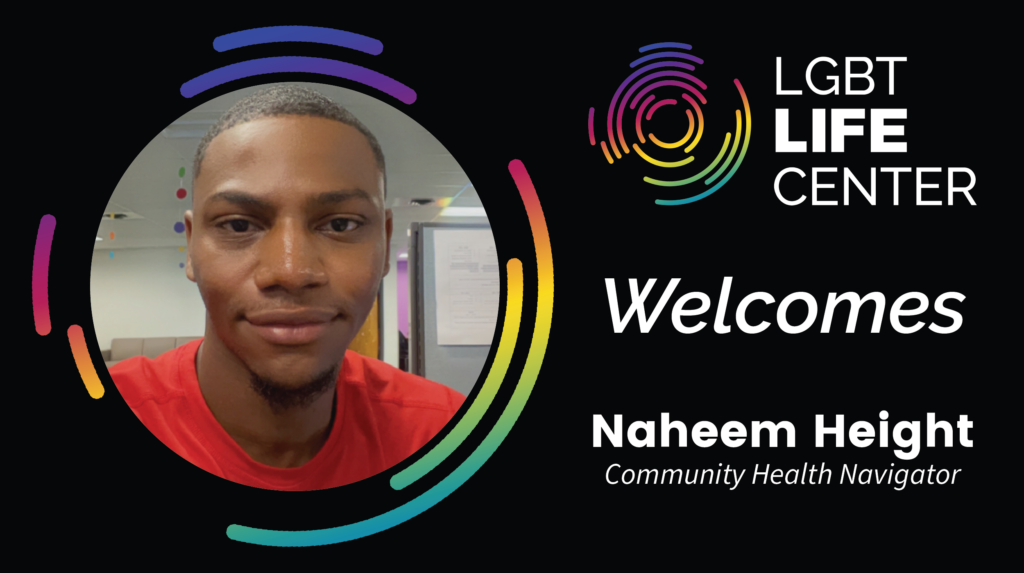 Name/Nickname: Naheem Height
Pronouns: He/Him
Job title: Community Health Navigator
Where'd you come from, and what'd you do there?
I was previously working in ABA with Maxim Healthcare as an ABA Therapist for children with ASD and other behavioral issues.


I'm here to help you with…
Servicing the community by providing education on prevention and testing.
How did you become interested in working at the LGBT Life Center?
I became interested in working at the Life Center after being referred by O'Mar White, based on previous conversations involving ideas on how to better support the community that we are a part of.


What's an interesting thing about you that most people don't know?
I played soccer and ran cross country for 6 years and was a cheerleader all throughout my undergraduate career.

What excites you most about being at the LGBT Life Center?
I am most excited about interacting with the community and teaching them about prevention methods and actually testing individuals to keep them most informed of their status.

Rapid Fire…what is your favorite…
• Animal: Panther
• Color: Orange
• Song/Music: Sexyy Red – SkeeYee
• TV Show/Movie: Sweeney Todd: Demon Barber on Fleet Street
• Hobby: Reading
Contact Naheem:
nheight@lgbtlifecenter.org
757-640-0929, ext. 632

Connect with us!
Tiktok.com/@lgbtlifecenter
Facebook.com/LGBTLifeCenter
Instagram.com/LGBTLifeCenter
Sign up for our monthly newsletter by clicking here.