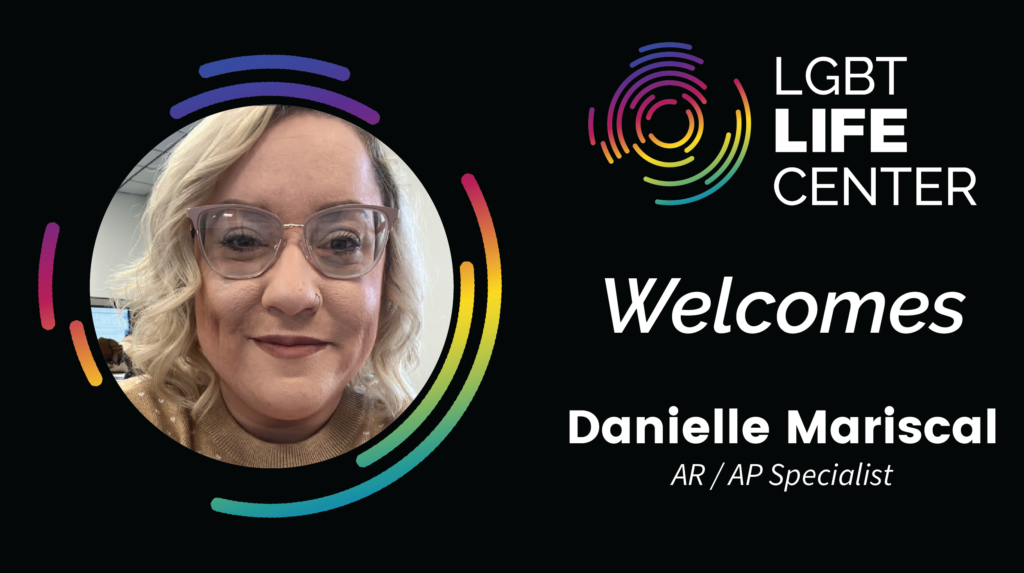 When Danielle isn't balancing the books, you can find her taking care of Sable, her 21-year-old horse, or watching an episode of Netflix's mind-bending Black Mirror.
Name: Danielle Mariscal
Pronouns: She / Her
Job: Accounts Receivable / Accounts Payable Specialist
Where'd you come from, and what'd you do there?
Previously, I was a business office coordinator at a TV Broadcast company in Richmond, Virginia. I am originally from Elizabeth City, North Carolina. I also studied Sociology and Gender, Sexuality, and Women Studies at Virginia Commonwealth University.

I'm here to help you with…
Grant reimbursements and accounts payable!
How did you become interested in working at the LGBT Life Center?
Before moving to Hampton Roads, I was researching LGBTQ organizations in the area because I wanted to be more involved in helping the queer community by volunteering. I was extremely excited to see that this position was available, and I felt that it would be the perfect fit for me.

What's an interesting thing about you that most people don't know?
I am very passionate about horses! I have a 21-year-old horse named Sable.
What excites you most about being at the LGBT Life Center?
As a queer woman, working in a safe space where I can be my authentic self is very important to me. Everyone has been so welcoming and kind here! I am very excited to be a part of LGBT Life Center, and I feel that working here will be very rewarding!

Rapid Fire…what is your favorite…
• Animal – Horse
• Color – Purple
• Song/Music – I am currently obsessed with music by Noah Kahan who is an American singer-songwriter of folk-infused pop.
• TV Show/Movie  – My favorite TV show is Black Mirror
• Hobby – Horseback riding
Contact Danielle:
dmariscal@lgbtlifecenter.org
757-640-0929
Connect with us!
Tiktok.com/@lgbtlifecenter
Facebook.com/LGBTLifeCenter
Instagram.com/LGBTLifeCenter
Sign up for our monthly newsletter by clicking here.