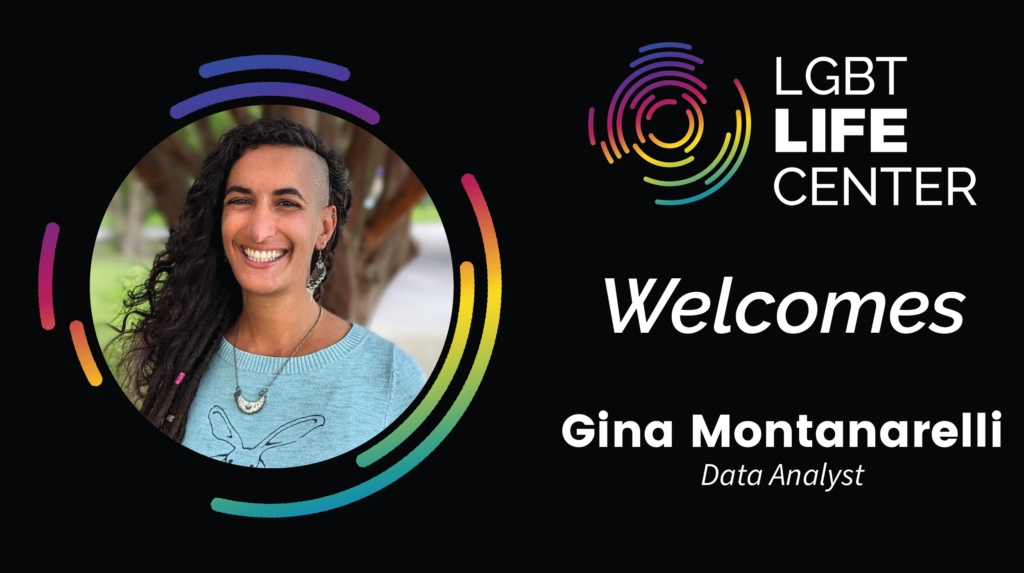 Our new Data Analyst, Gina Montanarelli, improves our work by giving us a clearer understanding of the situation through evidence.
Name/Nickname: Gina Montanarelli
Pronouns: She/her
Job title: Data Analyst
Where'd you come from, and what'd you do there?  I was the Donor Database Coordinator for the Chesapeake Humane Society, and I also volunteered there weekly in the cattery!
I'm here to help you with… In addition to supplying data for our grantors' reports, I can help you enter data in e2LGBT and understand how the system works for us.
How did you become interested in working at the LGBT Life Center? A former employee had been recommending the Life Center for about a year, and when it became time for me to take the next step in my career, I knew I wanted to work somewhere that directly benefited my community.

What's an interesting thing about you that most people don't know? I used to be the photography and social media coordinator for North America's longest-running faerie festival!
What excites you most about being at the LGBT Life Center? Hands down, it's my work family. I love supporting our mission together in every way, especially when we get to table at outreach events and interact with new people.
Rapid Fire…what is your favorite…
• Animal – Humans (but I also love winged creatures)
• Color – Aubergine
• Song/Music – The Grateful Dead, Florence and the Machine
• TV Show/Movie – PBS documentaries
• Hobby – Hula hooping, activism
Connect with us!
Tiktok.com/@lgbtlifecenter
Facebook.com/LGBTLifeCenter
Instagram.com/LGBTLifeCenter
Sign up for our monthly newsletter by clicking here.