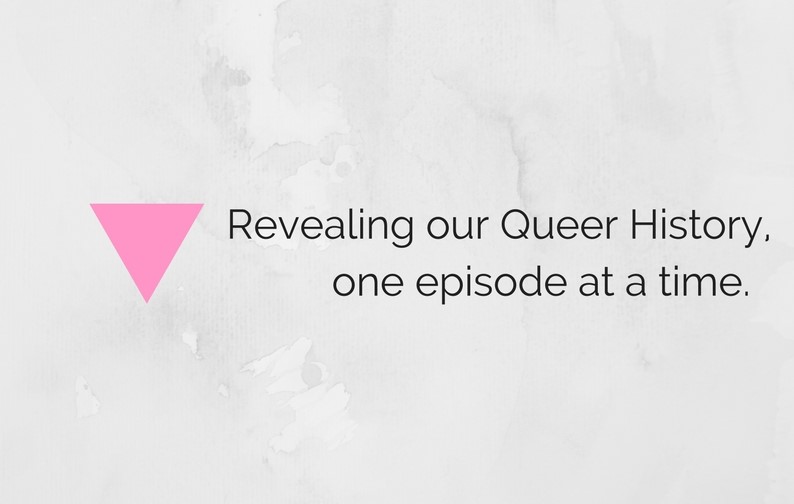 Our Own (Podcast) Story
Our history is fading; with each passing year we lose touch with a little bit of who we are. People pass, memories fade, and dominant cultures write history as they see it, which often doesn't include an LGBTQ story line (in spite of its existence). As Kira Kindley, creator of Own Our Podcast, says, "I had no idea this history was here." Our Own Podcast was started by Kira, an Old Dominion University student, after taking class with local LGBTQ historian and archivalist, Cathleen Rhodes (ODU professor).
We chatted with Kira to learn more about why she made Our Own Podcast and what she's up to next:
Q: Tell us a little bit about yourself:
I'm Kira Kindley, 23 years old, from Newport News, VA. I'm set to graduate from ODU in the next month with my Women's Studies degree, and then finish my Physics degree. I've lived in Hampton Roads all my life, between growing up in Newport News and going to college in Norfolk, and I became interested in LGBTO Hampton Roads when I realized I was bisexual in high school. However, I didn't know anything about the rich LGBTQ history of Hampton Roads until I took Queer Literature at ODU and began working with Our Own Community Press.
Can you tell us about Our Own Community Press, the namesake of your podcast?
Our Own Community Press was the LGBT newspaper in Hampton Roads from its first issue in 1976 until the paper folder in 1998. There were other newspapers that competed for the readership of the LGBT community, especially towards the end of the paper's life, but Our Own covered a wide range of topics, from book reviews to national news, from an LGBT perspective, and had readers all over the country.
I started working with Our Own in Queer Literature, and used it to do some preliminary research for the Tidewater Queer History Project, which I then presented on at ODU's Undergraduate Research Symposium in spring of this year. After that I just kept coming back to Our Own to learn more about the everyday lives of LGBTQ people in Hampton Roads, and eventually used it as the basis for my podcast.
What's the Tidewater Queer History Project? Why's it important?
The Tidewater Queer History Project (TQHP) is an initiative to document and archive the stories of LGBTQ people in Hampton Roads. We want to ensure that everyone's story is told, and told in their own voices. This work is so important in part because it must be done now–we have a particular emphasis in the TQHP about documenting the stories of older LGBTQ folks, which cannot wait. Already we have lost so many of our LGBTQ foreparents to advanced age, the AIDS epidemic, or hate crimes, and we cannot afford to delay in collecting these stories.
There are so many things you learn about your community only through its oral history, passed down from elders to the younger generations. We lost almost an entire generation of our elders in the LGBTQ community to the AIDS epidemic, and because membership in the LGBTQ community isn't hereditary many young LGBTQ people don't know where to look to access their own history. We are trying to combat that, and hope to make the interviews we do and the stories we collect publicly accessible as the Tidewater Queer History Project grows.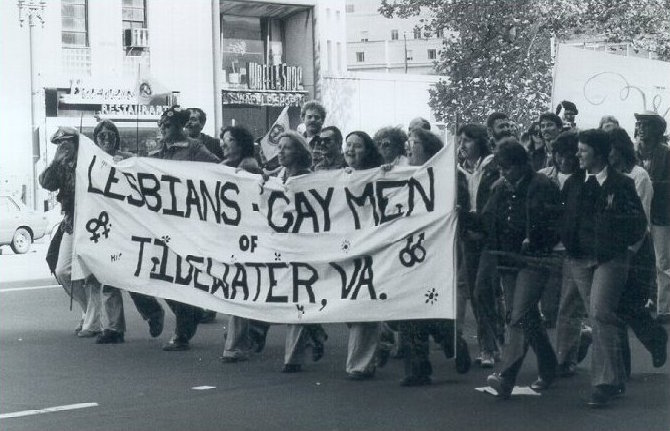 What inspired you to make this podcast?
After I took Queer Literature with Cathleen Rhodes and was first exposed to Our Own Podcast, I took Queer Studies. As part of the class each student was charged with writing a short script for a stop on a Queer Walking Tour of our own design, which we actually went on towards the end of that semester. Standing in the places where queer history happened in Norfolk and hearing the stories my classmates told about them was so powerful for me, and I wondered how one could preserve this experience for people who couldn't come on the walking tour with us. I had already dabbled with podcasting before, and it seemed like a good fit for the vision I had: some museums provide self-guided tours, where you listen to a recording explaining the history or context of the pieces you stop in front of at your own pace–that's what I wanted the podcast to be. I wanted to turn Norfolk into a museum of LGBTQ history, and provide a self-guided tour of Norfolk that one could take at their own pace, ideally while physically visiting the location I described.
How do you/did you decide what each episode was about?
I try to focus on the physical locations where LGBTQ history happened in Hampton Roads, and structure my stories around what happened in those spaces. This means that I do a lot of research on bars and other LGBTQ hotspots, but I also conduct research into singular events in LGBTQ history and try to tie them to a street address.
My introductory episodes were a little different. On Cathleen Rhodes' advice I did a short first episode to provide context for who I am and why this research is important. For my second episode, the first episode to actually get into the LGBT history of Hampton Roads, I wanted a story that still had a physical artifact that people could go visit.The story of Gay Danny had that, and it was one that deeply affected me because searching for "Danny is Gay" in the concrete was the first time I'd gone out in the field myself to follow a story–most of the research I do for the podcast is done via ODU's Digital Collections archive. It was a story that had personal meaning for me, was engaging, and best of all it was a story I knew most people listening to the podcast may have never encountered before.
What's something surprising you learned about the Hampton Roads LGBTQ community while you were making this podcast?
People my age may not realize this, but it was illegal to own and operate a gay bar for almost 40 years in Virginia! The sheer number of gay bars that operated in-spite of this is honestly inspiring, especially in light of how frequent police raids were on gay bars, and the hostility that LGBTQ citizens faced from the police and private citizens. Our community has always been resilient. The stories I find in my research illustrate that over and over again.
What's next for Our Own Podcast?
I'm covering a bar called The Nutcracker for episode 3, and I'm making plans to cover a variety of locations and topics from Colonial queer history to court cases! The more research I do, the more fascinating, touching stories come to light. I'm eager to share them all with my listeners.
What's next for you?
More work with the Tidewater Queer History Project, and returning to ODU for the fall semester! I manage the TQHP twitter page, @TidewaterQueer, and I'm currently transcribing interviews that the TQHP conducted at Hampton Roads Pride this year. I am also working with the TQHP and other local activists to save Hershee Bar, attending every Norfolk City Council meeting possible to urge City Council to reverse its decision to demolish the beloved (and historic!) lesbian bar.

Connect with us!
Twitter.com/LGBTLifeCenter
Facebook.com/LGBTLifeCenter
Instagram.com/LGBTLifeCenter