When he's not kayaking, hanging out with his dog, or teaching our community about PrEP as an HIV-prevention tool, Maxwell is in school to become a substance use counselor.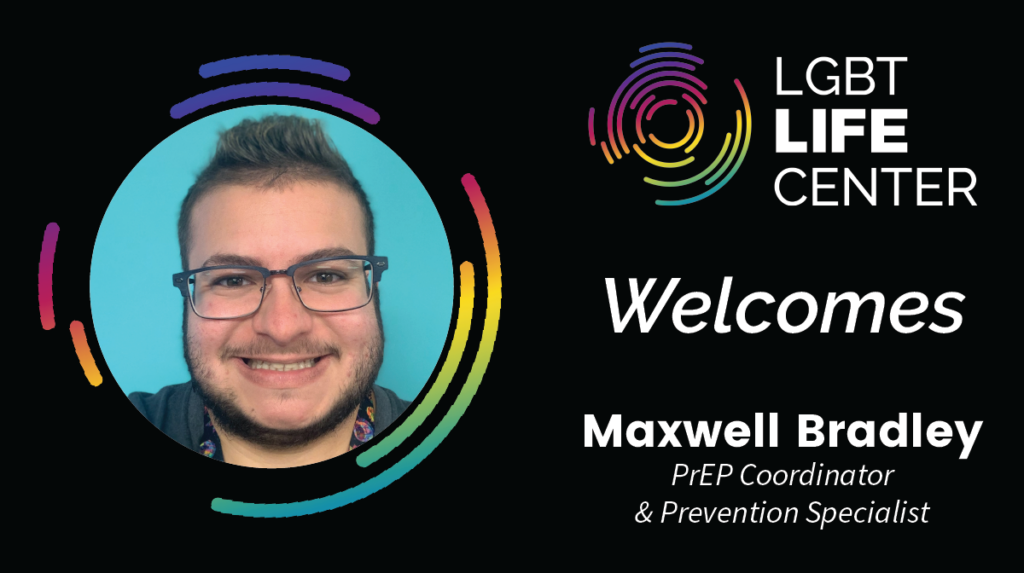 Name/Nickname: Maxwell Bradley/Max
Pronouns: He/Him
Job title: PrEP Coordinator/Prevention Specialist
Where'd you come from and what'd you do there? U.S. Navy, I was a ship mechanic on the USS Dwight D. Eisenhower for 4 years before transitioning to shore duty for a year and a half at Portsmouth Naval Hospital, working in Medical Boards as an assistant.

I'm here to help you with… understanding the benefits of PrEP, helping you decide if it's a good fit for you, and helping our clients and community understand HIV/STI prevention methods and tools.
How did you become interested in working at the LGBT Life Center?
After meeting with Dexter at a support group I realized I finally fit somewhere in the world and wanted to pursue a career here.
What's an interesting thing about you that most people don't know?
I am going to school to become a counselor in substance use because I really have a passion for helping people with substance use challenges, especially within the LGBTQ+ community.
What excites you most about being at the LGBT Life Center?
Helping and guiding people through their journey.
Rapid Fire…what is your favorite…
• Animal – Unicorns and Pegasus
• Color – Purple
• Song/Music – Country music
• TV Show/Movie – Friends or Scooby-Doo
• Hobby – Kayaking or hanging out with my dog
Contact Maxwell:
mbradley@lgbtlifecenter.org
757-640-0929
Connect with us!
Tiktok.com/@lgbtlifecenter
Facebook.com/LGBTLifeCenter
Instagram.com/LGBTLifeCenter
Sign up for our monthly newsletter by clicking here.