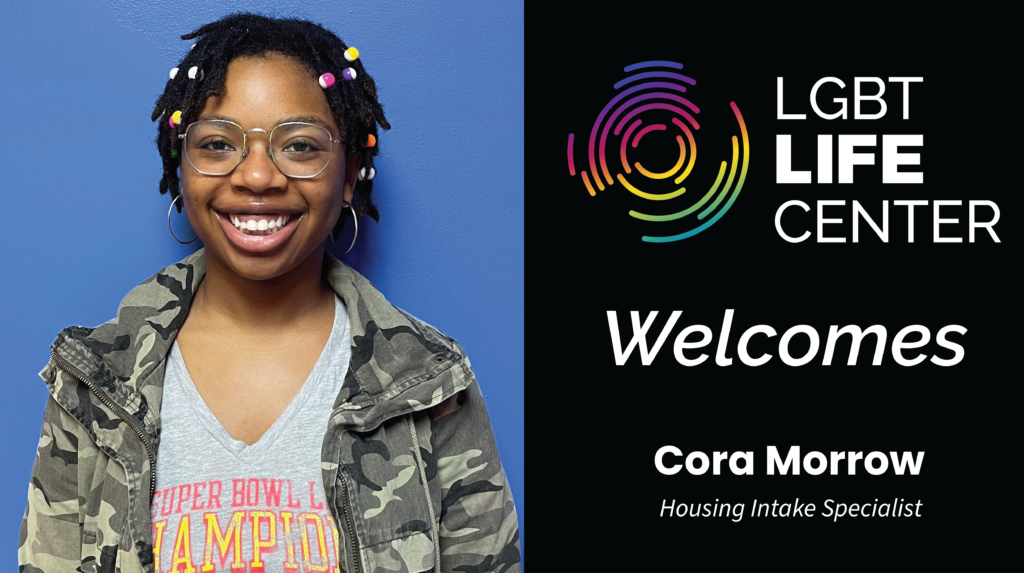 Name/Nickname: Cora Morrow (no nickname)
Pronouns: She/her
Job Title at LGBT Life Center: Housing intake specialist
Where'd you come from and what'd you do there? I worked for the YWCA as a Residential Service Assistant for the shelter. There I would complete the intake and provide support for clients leaving domestic/sexual violence throughout the stay in the shelter. I also worked as a Team Lead at Reebok where I would provide leadership to associates as well as complete other management tasks.
I'm here to help you with: Being the first point of contact our clients will have in obtaining housing assistance.
How did you become interested in this job/type of work? While working with the YWCA, it helped me realize that I have a passion to help those who are part of communities that are overlooked and under-supported. After learning about the LGBT Life Center, I believed that I could bring this passion to the LGBT Life Center due to our focus being to assist those who are LGBTQ+ as well as living with HIV.
What's an interesting thing about you that most people don't know? I really enjoy learning about history, specifically ancient history!
What excites you about joining the LGBT Life Center Team? Being a part of an organization that fully accepts people for who they are and feels like a family rather than a regular job.
Connect with us!
Twitter.com/LGBTLifeCenter
Facebook.com/LGBTLifeCenter
Instagram.com/LGBTLifeCenter
Sign up for our monthly newsletter by clicking here.