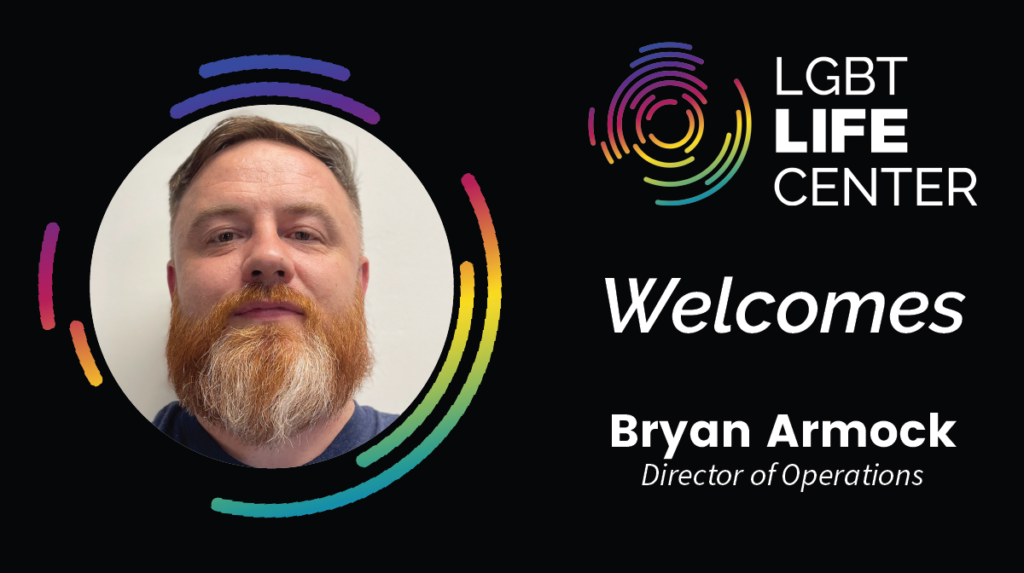 From the high seas to a "Higher Love," our Director of Operations uses his passion for efficiency to make a difference in our community.
Name/Nickname:  Bryan, Bry, B, Skates, Mr. Make It Happen…call me what you want but don't call me late for dinner!
Pronouns: He/Him
Job title: Director of Operations
Where'd you come from, and what'd you do there?  I originate from the great state of Michigan, home of snow, big lakes, and of course, The Michigan Wolverines—GO BLUE!  I am a former Navy Corpsman, often referred to as a Combat Medic.  After retiring from service, I followed my creative path, obtained my contractor's license, and started my own home improvement company.

I'm here to help you with… Efficiency, process improvement, and standardization; anything that will help the organization better serve our community.  
How did you become interested in working at the LGBT Life Center?  I love OUR community; it has enriched my life in immeasurable ways, particularly in times of internal conflict. It is my greatest hope that I am able to give back as much as I've been given and then some.  

What's an interesting thing about you that most people don't know?  I've visited 42 countries and 5 of the 7 continents.  The other two are definitely on my bucket list.
What excites you most about being at the LGBT Life Center?  The opportunity to make a difference in the lives of my fellow humans, even if it's a small difference.  
Rapid Fire…what is your favorite…
Animal – Polar Bear
Color  – Purple
Song/Music  – "Higher Love" by the greatest of all times, Ms. Whitney Houston.  "Somewhere Over the Rainbow" is a close second.
TV Show/Movie  – The Golden Girls and Silence of the Lambs.  
Hobby – I'm a plant daddy!  I love to watch things grow! 
Contact Bryan:
barmock@lgbtlifecenter.org
757-640-0929
Connect with us!
Tiktok.com/@lgbtlifecenter
Facebook.com/LGBTLifeCenter
Instagram.com/LGBTLifeCenter
Sign up for our monthly newsletter by clicking here.