Julie Snell is a long-time non-profit advocate and knows that housing is the root of all good in health care.
When she's not helping our clients, you can catch her playing Stonewall Sports or rockin' out to Fleetwood Mac.
Welcome to the team, Julie!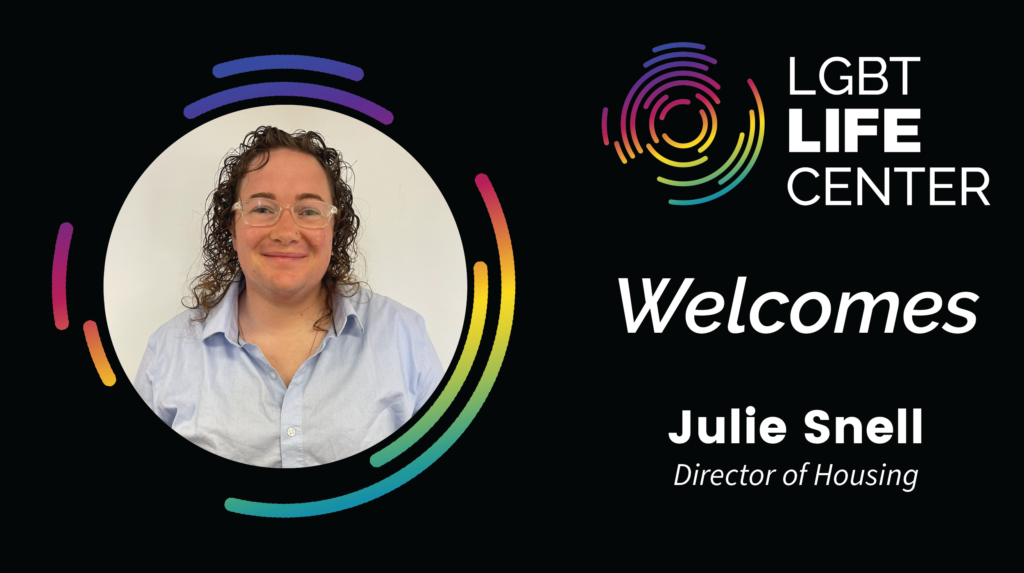 Get to know Julie
Name/Nickname: Julie
Pronouns: She/her
Job title: Housing Director
Where'd you come from, and what'd you do there? Most recently, I worked at ForKids as the Grants Billing Coordinator, but I've held several positions at the agency over the past few years.
I'm here to help you with… anything you may need help with! While housing is my specialty, I also have a wide variety of experience, and I am happy to help however I can.
How did you become interested in working at the LGBT Life Center? I have always worked adjacent to the LGBT Life Center at other agencies, and I realized that I wanted to become more involved in my community. Working here allows me not only to continue providing housing services but it allows me to do so within the LGBTQIA+ community.
What's an interesting thing about you that most people don't know? I am a first-generation college student, and I am almost done with my Ph.D. in Criminology.
What excites you most about being at the LGBT Life Center? The ability to work with a passionate and dedicated group committed to serving our community.
Rapid Fire…what is your favorite…
• Animal- Otters
• Color- Dark green
• Song/Music- Rhiannon, Fleetwood Mac
• TV Show/Movie- Golden Girls
• Hobby- Playing most Stonewall Sports.
Contact Julie:
jsnell@lgbtlifecenter.org
757-640-0929, ext. 252
Connect with us!
Twitter.com/LGBTLifeCenter
Facebook.com/LGBTLifeCenter
Instagram.com/LGBTLifeCenter
Sign up for our monthly newsletter by clicking here.