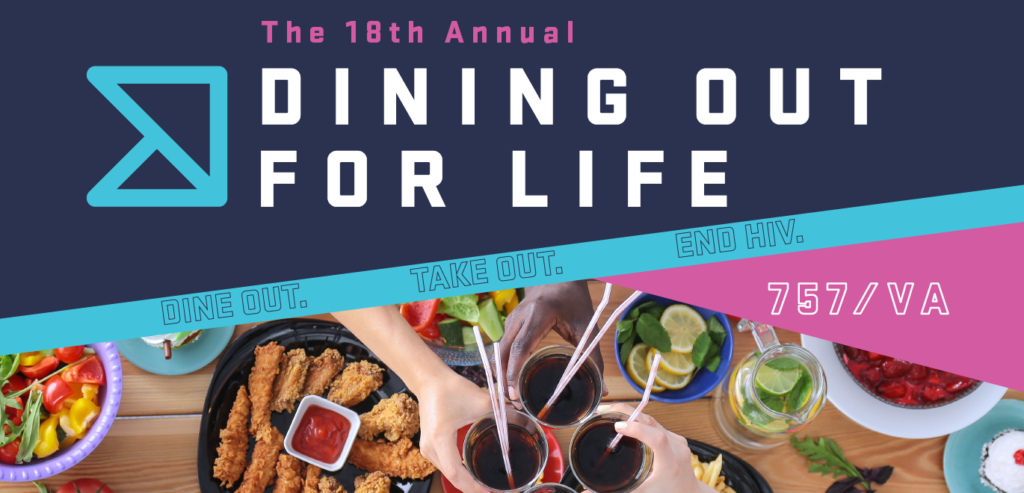 Dining Out For Life Reimagined for April 29, 2021
After a COVID-19 hiatus last year, Dining Out For Life is back for their 18th annual region-wide event!
Mark your calendars for April 29, 2021, and participate by dining out or taking out food from a participating restaurant.
Sign your restaurant up here >>

LGBT Life Center recognizes that COVID-19 has hit the restaurant industry hard, and they want to be a good community partner by not asking restaurants to donate the day's proceeds to them. Instead, they are turning the tables and asking Dining Out For Life supporters to stand in solidarity with the local food scene, and the thousands of people it employs, by dining out or taking out your their favorite participating restaurant on April 29, 2021. All donations will be waived for any restaurant that has participated in Dining Out For Life since they began the event 17 years ago.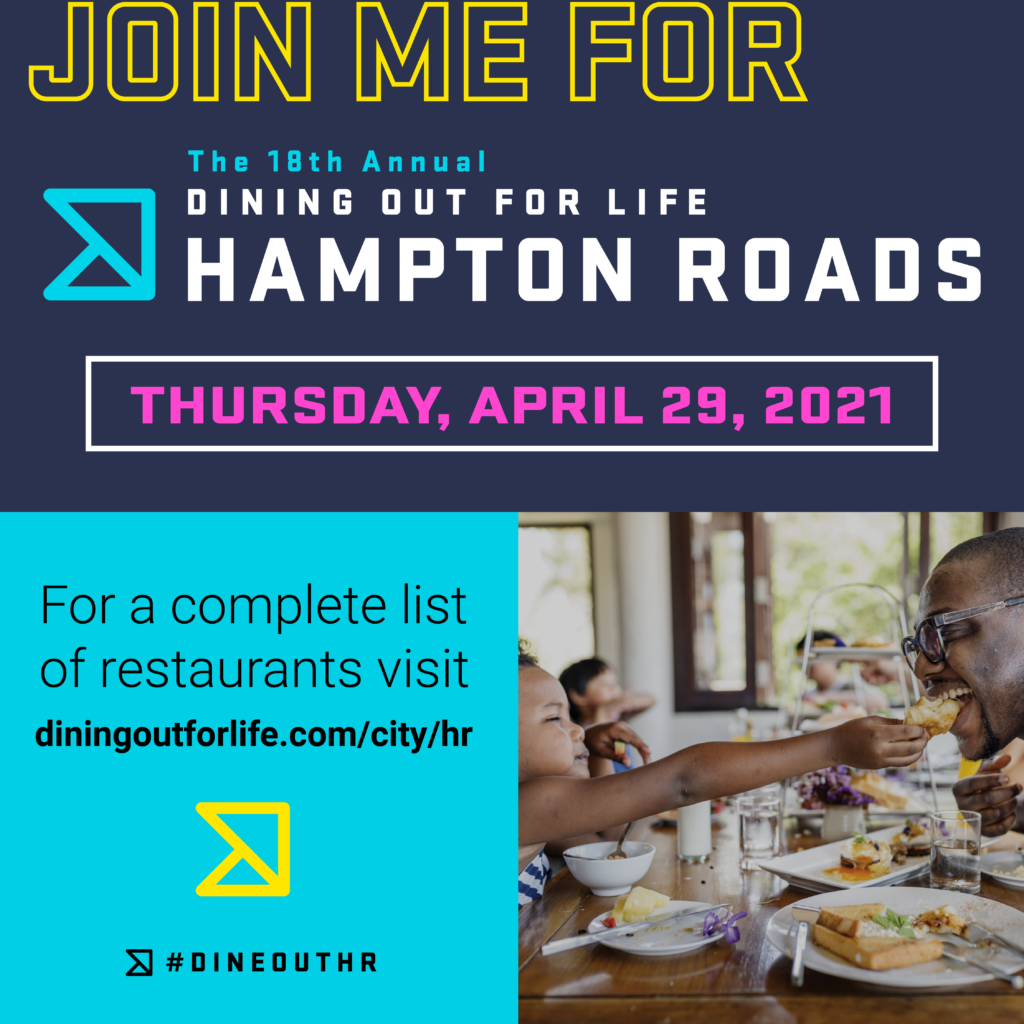 "Dining Out For Life's first year in Hampton Roads was 2003. Over the nearly two decades of the event, local restaurants and our diner-donors have raised over 1 MILLION dollars for HIV/AIDS programs at LGBT Life Center. Traditionally, the restaurants that participate give 25% or more of the day's proceeds and nearly 150 volunteers come together to act as restaurant ambassadors – inviting their friends, family, and networks to dine out. Because of COVID-19, we will not be asking our ambassadors to be in restaurants this year, knowing that not everyone has been vaccinated. Therefore, we will be recruiting VIRTUAL AMBASSADORS to promote the event and encouraging their friends to Dine Out, Take Out, End HIV," said Stacie Walls, CEO of LGBT Life Center who has been involved with the event since its inception 18 years ago.
#GIVINGBACKTHROUGHDOFL
New Restaurants
For our restaurants who are new to the event this year, they will be participating by paying a flat registration rate so to grow the DOFL family and promote new restaurants too.
#EVERYONEWINS
Also new this year, The Board of Directors at LGBT Life Center will be sponsoring the registration fees for 10 "New to DOFL" Black-Owned Restaurants as they promote black-owned businesses in our community.
Sign your restaurant up here >>
Despite the Pandemic, LGBT Life Center Continues to Serve the Community
The last year has taken a toll on LGBT Life Center, but they have persevered and have continued to provide life-saving services during this pandemic. In fact, LGBT Life Center increased their daily hours, going from 8:30am – 5pm to 8:30am – 8pm. Many other clinics and health care facilities in the area cut hours and staff during the pandemic. They've also seen a 144% in mental health appointments and gave out 50,000 pounds more food during the first 6 months of Covid, more than doubling last year's numbers during the same timeframe.
LGBT Life Center invites everyone to join in supporting the work they do by donating through our webpage, and also by dining out or taking out on APRIL 29, 2021.
For a complete list of participating restaurants visit www.diningoutforlife.com/city/757/
#DOFLHR
Volunteer
For more information or volunteer and ambassador opportunities, please call 757-640-0929, visit https://lgbtlifecenter.org/ or connect with them on Facebook, Twitter or Instagram.
Connect with us!
Twitter.com/LGBTLifeCenter
Facebook.com/LGBTLifeCenter
Instagram.com/LGBTLifeCenter
Sign up for our monthly newsletter by clicking here.