Non-profit work is for the strong of heart, attracting the kind of people looking to root their work in purpose and causes over a corporate ladder career path. And because the folks working at nonprofits tend to wear many hats, we aren't always the best at championing our wins. Once you've accomplished something, it's a habit to jump to the next task at hand, thankful you've succeeded but always knowing there's more to be done. But the journey is marked by resilience, purpose, and a relentless drive to make a difference. At LGBT Life Center, our staff embodies these values, dedicating ourselves to a cause that transcends the balance sheet.

Navigating Challenges in the Non-Profit Landscape
The post-Covid era has been a time of significant reorganization and adaptation, not just for us but for non-profits globally. We've faced challenges like the national average of 21% turnover in the non-profit sector. This turnover mirrors our experience, leading to increased workloads and the continuous process of training new team members. These are not complaints but the realities of our daily operations. A startling statistic from a recent survey indicates that half of all non-profit workers plan to leave their jobs by 2025, highlighting the transient nature of employment in our sector.

Celebrating Milestones Amidst Challenges
Despite these hurdles, our recent management and budget meetings unveiled some truly inspiring figures from our finance team. In the past eight years, we've witnessed phenomenal growth in our revenue – a staggering 151% increase from just over $6 million to well over $15 million annually. This growth is not just a number; it's a gateway to program and service possibilities that were once beyond our imagination.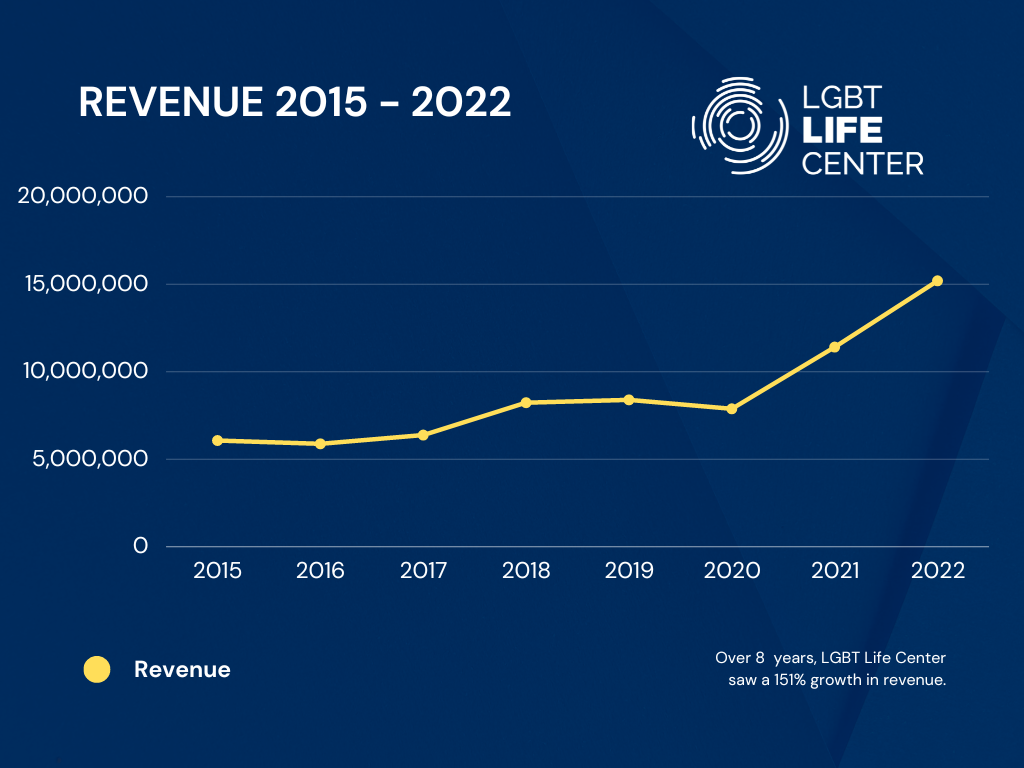 Realizing Dreams and Expanding Horizons
Today, we stand proud, preparing to renovate a state-of-the-art LGBT center on the peninsula. This center is not just a building; it's a bold, progressive, and proud LIFE-affirming clinic and pharmacy, community space, and much more. We're also excited about our upcoming projects in Norfolk, including a new pharmacy, clinic, and community space, all set to open in Spring 2024.

A Collective Effort and a Shared Vision
This remarkable growth is the result of years of dedicated effort, strategic planning, relationship building, successful grant applications, and effective fundraising. But most importantly, it's a testament to a community that consistently shows up, cares deeply, and is committed to creating a nurturing environment for queer individuals in Hampton Roads.

Gratitude and Looking Forward
We are deeply honored to be a part of this mission and extend our heartfelt thanks to everyone who has supported us. Your belief in our cause fuels our journey forward, and together, we are making Hampton Roads a haven where LGBTQ+ individuals can lead a fulfilling, healthy LIFE.
Join us as we continue to grow, serve, and celebrate every milestone along the way. Your support makes all the difference.
Connect with us!
Tiktok.com/@lgbtlifecenter
Facebook.com/LGBTLifeCenter
Instagram.com/LGBTLifeCenter
LinkedIn.com/LGBTLifeCenter
Sign up for our monthly newsletter by clicking here.