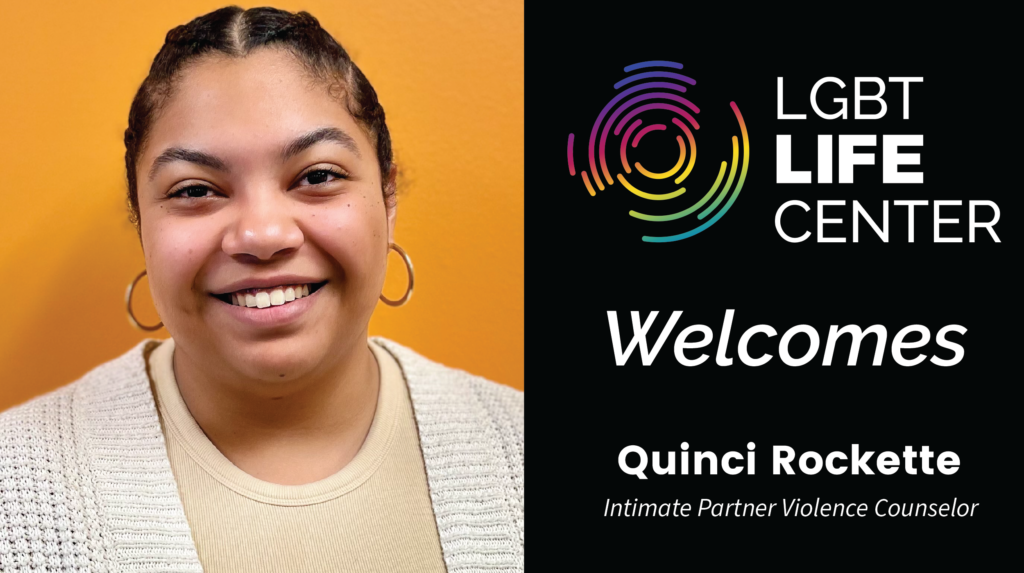 Name/Nickname: Quinci
Pronouns: She/her
Job title: Intimate Partner Violence Counselor
Where'd you come from, and what'd you do there? I moved here from Ann Arbor Michigan, but I am originally from Virginia Beach, VA!
I'm here to help you with… healing from a violent relationship or helping to identify intimate partner violence if you're unsure. I can also help with an exit plan, filling police reports, and accompanying you to court hearings for support.
How did you become interested in working at the LGBT Life Center? I wanted to work with communities most vulnerable to intimate partner violence. 
What's an interesting thing about you that most people don't know? I love to sew and build keyboards!
What excites you most about being at the LGBT Life Center? I love how kind and fun all my coworkers are! 😊
Rapid Fire…what is your favorite…
• Animal: Foxes
• Color: Peach
• Song/Music: Recently, I've been obsessed with OMG by NewJeans
• TV Show/Movie: Bee and Puppycat
• Hobby: Reading
Learn more about our intimate partner violence support program here.
Sign up for our online intimate partner violence support group by emailing Quinci Rockette.
Contact Quinci:
qrockette@lgbtlifecenter.org
757-640-0929, ext. 670
Connect with us!
Twitter.com/LGBTLifeCenter
Facebook.com/LGBTLifeCenter
Instagram.com/LGBTLifeCenter
Sign up for our monthly newsletter by clicking here.