Dianne Feinstein (1933 – 2023), the U.S. Senator from California, has long been a prominent figure in American politics, holding a seat in the Senate since 1992. Throughout her political career, Feinstein has been an advocate for LGBTQ+ rights. Her legislative efforts and support for policies promoting equality and anti-discrimination have had a national impact on the LGBTQ+ movement.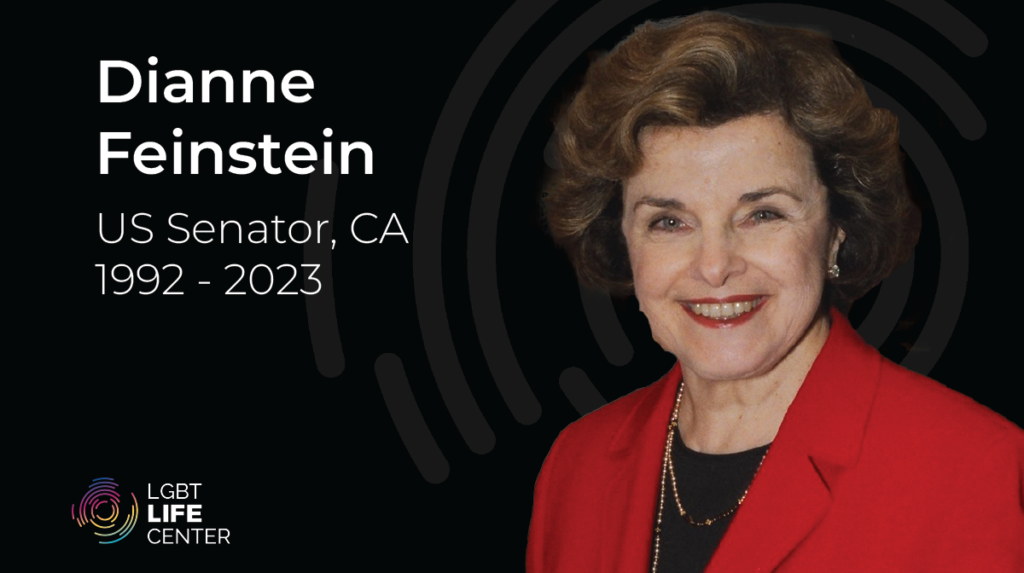 Advocacy for Marriage Equality
One of Feinstein's significant contributions to LGBTQ+ rights is her unwavering support for marriage equality. She was a vocal opponent of Proposition 8, a California ballot proposition that sought to ban same-sex marriage. Feinstein's advocacy was instrumental in the fight against this proposition, emphasizing the importance of equal rights for all, regardless of sexual orientation. Her support for marriage equality was a crucial component in the broader movement that eventually led to the nationwide legalization of same-sex marriage in 2015.
Opposition to "Don't Ask, Don't Tell"
Feinstein played a pivotal role in opposing the "Don't Ask, Don't Tell" (DADT) policy, which was enacted in 1994 under former President Bill Clinton. This policy prohibited openly LGBTQ+ individuals from serving in the United States military, leading to the discharge of thousands of service members simply because of their sexual orientation. The eventual repeal of DADT in 2011 marked a significant victory for LGBTQ+ rights, allowing service members to serve openly and authentically.
Support for Anti-Discrimination Legislation
Feinstein has consistently supported legislation aimed at preventing discrimination against LGBTQ+ individuals. She has been a proponent of bills seeking to extend anti-discrimination protections to include sexual orientation and gender identity, ensuring equal rights in employment, housing, education, and public services.
Advocacy for Transgender Rights
In addition to her support for the broader LGBTQ+ community, Feinstein has been an advocate for the rights of transgender individuals. She has supported policies and legislation that affirm the rights of transgender people, including access to healthcare, protection from discrimination, and the right to serve in the military. Feinstein's advocacy underscores her understanding of the diverse needs within the LGBTQ+ community and her commitment to addressing the specific challenges faced by transgender individuals.
A True Ally
Dianne Feinstein's enduring support for LGBTQ+ rights has been a defining aspect of her political career. From her advocacy for marriage equality to her opposition to discriminatory policies like "Don't Ask, Don't Tell," Feinstein has been a stalwart ally of the LGBTQ+ community. While the journey towards full equality continues, the contributions of allies like Dianne Feinstein play a crucial role in advancing the rights and well-being of LGBTQ+ individuals across the nation.
Feinstein's Career Dates Back to 1978
1. Mayor of San Francisco (1978–1988):
Dianne Feinstein served as the Mayor of San Francisco for ten years. She first assumed the role following the assassination of Mayor George Moscone and was subsequently elected in her own right, serving two terms.
2. Member of the San Francisco Board of Supervisors (1970–1978):
Before becoming mayor, Feinstein served on the San Francisco Board of Supervisors for eight years, representing the interests of her constituents and working on local legislation and policies.
3. U.S. Senator from California (1992–Present):
Feinstein has been serving as a United States Senator representing California since 1992. In this role, she has worked on a wide range of issues, including gun control, national security, healthcare, and LGBTQ+ rights, among others.
4. Chair of the Senate Intelligence Committee (2009–2015):
Feinstein served as the chair of the Senate Intelligence Committee, overseeing the nation's intelligence agencies and working on issues related to national security and intelligence.
5. Chair of the Senate Rules Committee (2007–2009):
She also chaired the Senate Rules Committee, which is responsible for overseeing matters related to the rules and administration of the Senate.
6. Member of Various Senate Committees:
Over her tenure as a U.S. Senator, Feinstein has been a member of several other Senate committees, contributing to legislation and policies on issues such as judiciary, appropriations, and energy, among others.
Tiktok.com/@lgbtlifecenter
Facebook.com/LGBTLifeCenter
Instagram.com/LGBTLifeCenter
Linkedin.com/LGBTLifeCenter
Sign up for our monthly newsletter by clicking here.