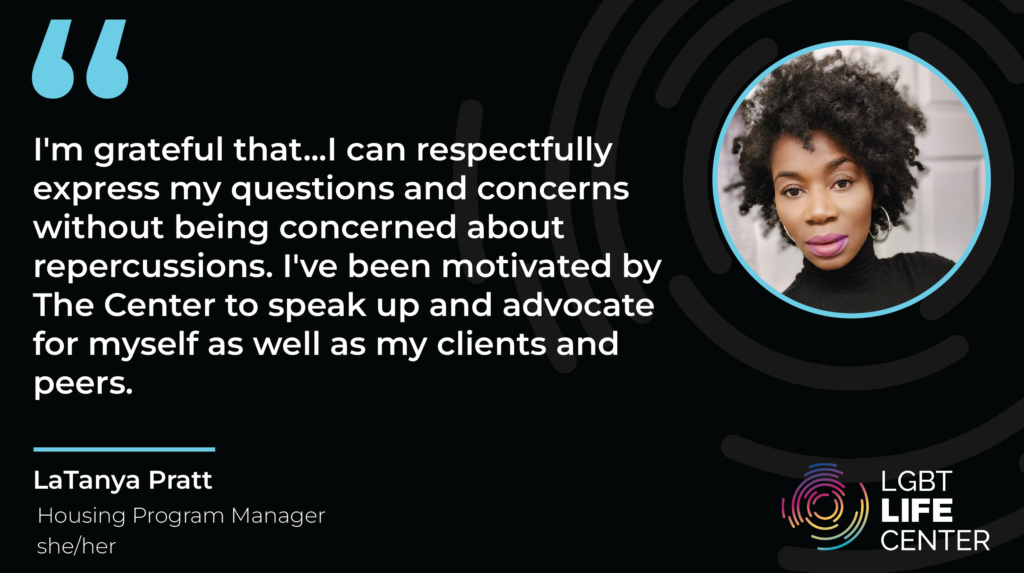 Name: Latanya Pratt       
Title: Housing Program Manager
Pronouns: She/Her
How long have you been with LGBT Life Center?  6 years on August 17
Tell us a little bit about the work you do at The Center:
I work with the CHAP and HOPWA programs (housing services) to help HIV-positive, chronically homeless individuals, and families find safe and affordable housing, whether they need help with a security deposit, the first month's rent, or long-term housing. As the liaison between the tenant and the landlord, I help my clients with any housing needs they may have and make sure that everyone is given the best possible care. As a Housing Program Manager, I now assist my coworkers with the knowledge, methods, and strategies required to be excellent housing specialists for both tenants and landlords. My favorite phrase is "Think outside the box." 
Tell us about a time you helped a client:
Giving the keys to a client who has been homeless for a considerable amount of time and has never even applied for a rental or even had an apartment in their name is always an amazing experience for me. For "hard housing" clients. I refer to people who are "hard house clients" as they have extremely high barriers that make it nearly impossible for them to rent an apartment. Fortunately for them, Ms. Pratt always found a way to help them by advocating and encouraging landlords to participate in our housing program.
I've had clients cry happy tears; some even tried to kiss me. It's just a good feeling to experience.
What do you love most about your colleagues?
My coworkers' sincere love for one another is what I admire most about them. My coworkers are encouraging, sympathetic, and supportive of one another. For me, entering the office is like entering a second home; you never know which sibling or brother you'll argue with throughout the day, and love on by the end of the shift.
What do you love most about working at The Center?
The setting and staff are wonderful. I'm grateful that this is the first place of employment where I can respectfully express my questions and concerns without being concerned about repercussions. I've been motivated by The Center to speak up and advocate for myself as well as my clients and peers. Trust me; I do it very well! 
Contact LaTanya:
lpratt@lgbtlifecenter.org
757-640-0929
Connect with us!
Tiktok.com/@lgbtlifecenter
Facebook.com/LGBTLifeCenter
Instagram.com/LGBTLifeCenter
Sign up for our monthly newsletter by clicking here.