For the past 17 years at LGBT Life Center, Michelle Reed has devoted her life to the service of others, exemplifying a deep commitment to care and compassion. Her dedication comes in countless acts of support, guidance, and assistance, impacting the lives of many and creating lasting positive change.
Michelle's resolve to help others speaks volumes about her character and her profound sense of empathy and kindness. Her journey is a testament to the transformative power of helping others, and her ongoing contributions continue to make a significant difference in the lives she touches.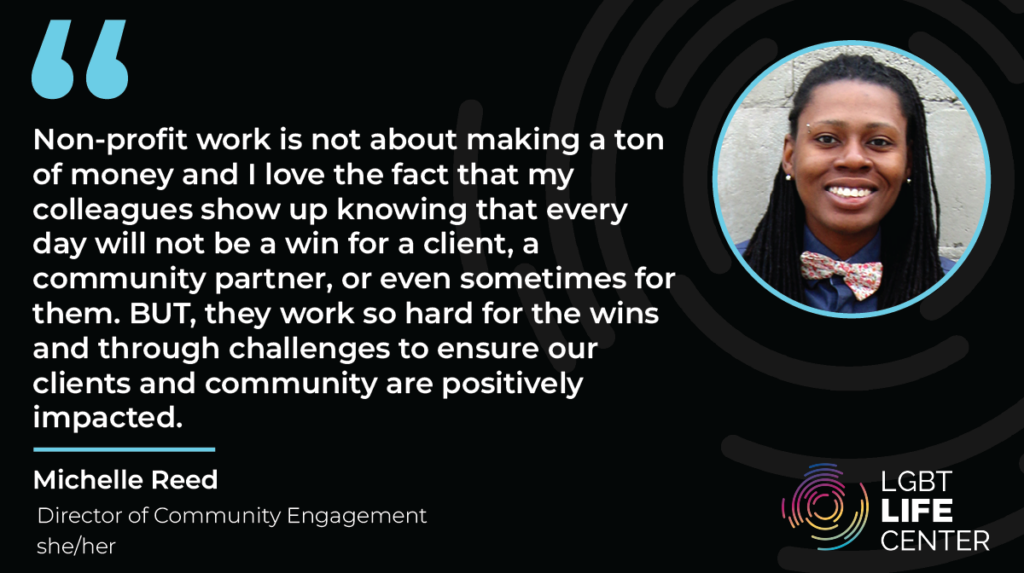 Name: Michelle Reed
Title: Director of Community Engagement
Pronouns: She/her/hers
How long have you been with LGBT Life Center? 17 years!
Tell us a little bit about the work you do at The Center? I think my role at The Center is layered and involves variety, such as helping to increase the visibility of LGBT Life Center in the community, strengthening and maintaining community partnerships, and organizing events and activities.
Tell us about a time you helped a client: In my 17 years at The Center, I have been employed in different roles and I am hopeful that I have helped many people who have faced challenges or needed a positive word…or a hug…or someone to just listen. I can remember a time in the 80s or 90s when my mother picked up someone with many grocery bags from the bus stop and they talked in the car like old friends catching up. When my mom dropped the person off, I asked who they were and my mom said, "I don't know…I saw that they needed a ride." That memory will forever be vivid and will always resonate with me. I always want the help or assistance that I provide to be seamless, genuine, unspoken, and efficient.
What do you love most about your colleagues? Non-profit work is not about making a ton of money and I love the fact that my colleagues show up knowing that every day will not be a win for a client, a community partner, or even sometimes for them. BUT, they work so hard for the wins and through challenges to ensure our clients and community are positively impacted.
What do you love most about working at The Center? I love that The Center exists and continues to grow and expand! I love the conversations that I have with clients and community members and am excited about our location in Hampton opening in 2024!
Contact Michelle:
mreed@lgbtlifecenter.org
757-640-0929
Connect with us!
Tiktok.com/@lgbtlifecenter
Facebook.com/LGBTLifeCenter
Instagram.com/LGBTLifeCenter
Sign up for our monthly newsletter by clicking here.