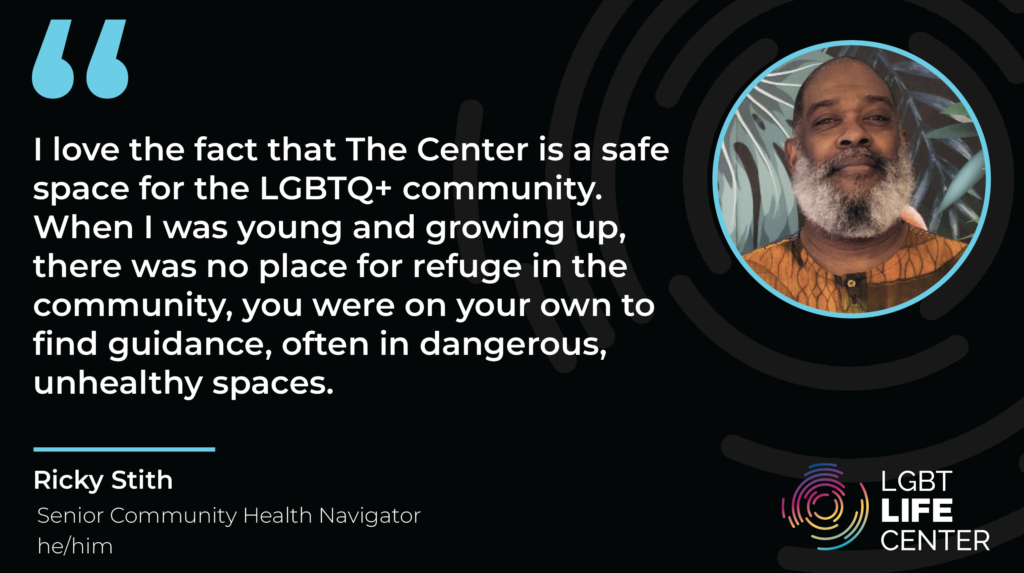 Name: Ricky Stith        
Title: Senior Community Health Navigator
Pronouns: He/Him
How long have you been with LGBT Life Center?  7 Years!
Tell us a little bit about the work you do at The Center:
As a Senior Health Education Navigator, a large part of what I do is to ensure that the community has access to our resources, such as HIV/STI testing, housing, employment, health insurance, HIV Treatment/Medication, food, Prep, and Mental Health Services. I also facilitate (RISE), a group intervention for gay and bisexual men, and Health Living Project, an individual intervention for HIV+ individuals.
Tell us about a time you helped a client:
As previously stated, I work with clients who are HIV-positive. I help them live healthy lives. About a year ago, I had a client who just wanted to talk while I was at work during a testing shift. It was no big deal because I always tell clients to call me even after they finish services at The Center; this client, in particular, had gone through the Health Living Project. This client was depressed and said that he was thinking about suicide. I tried to engage in conversation, but he hung up the phone. I tried calling him, but he would not answer. I called the police and provided as much information as possible. Later that night, I discovered that he was featured on a local news channel. Apparently, his parents reported him missing.  Thankfully, he was later found and unharmed.  Basically, he just needed someone to talk to, and he chose to call me. I was so happy for him. Today, he is not only surviving but thriving. He is in mental health counseling and stable enough to have worked full-time for the past 6 months. Yes, it's rewarding to help others. Sometimes those who you help feel as if they owe you something. They don't. 
What do you love most about your colleagues? 
I will be 64 years old in December, and I am looking forward to retirement in a few years. With that said, I especially enjoy working with the younger generation. I learn so much from my younger colleagues, especially regarding technology. They are always willing to help me learn about social media. They are always respectful. I love it when they say, "Mr. Ricky."   Also, I know that it will be the younger generation who will carry the torch for future LGBTQ+ causes and concerns. 
What do you love most about working at The Center?
I love the fact that The Center is a safe space for the LGBTQ+ community. When I was young and growing up, there was no place for refuge in the community. I didn't ask momma or daddy. You were on your own to find guidance, often in dangerous, unhealthy spaces.  Thank God things have changed for the better. 
Contact Ricky:
rstith@lgbtlifecenter.org
757-640-0929
Connect with us!
Tiktok.com/@lgbtlifecenter
Facebook.com/LGBTLifeCenter
Instagram.com/LGBTLifeCenter
Sign up for our monthly newsletter by clicking here.