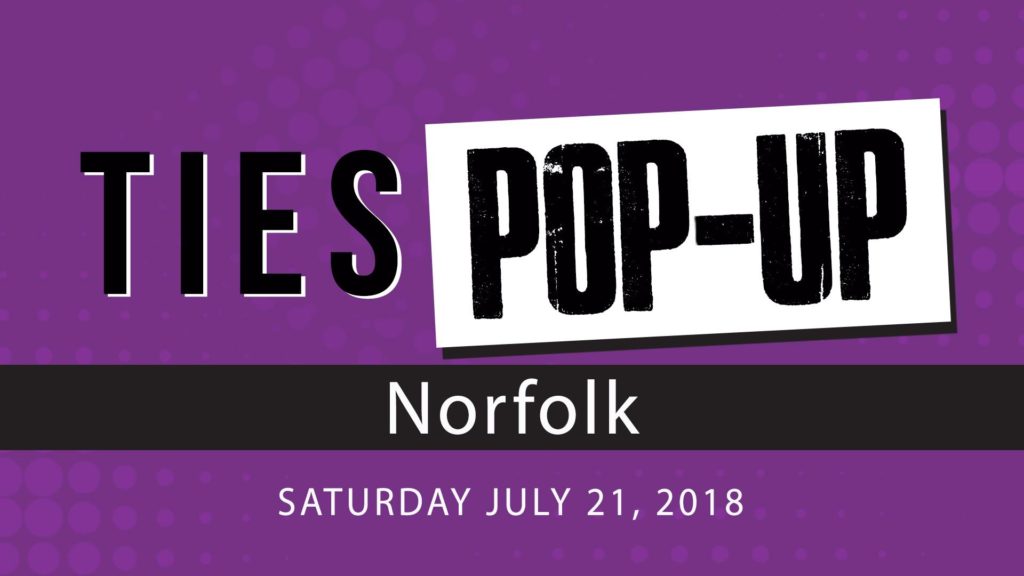 TIES Pop-Up Comes to Norfolk
Last fall we told you about TIES, the Transgender Information and Empowerment Summit, happening in Richmond. That event was a huge success (we sent 8 people from Hampton Roads!). It was so successful, in fact, that TIES is hitting the the road and doing pop-ups across the commonwealth.
You can join TIES for their Norfolk Pop-up on July 21 at the Slover Library. The event is being co hosted by Equality Virginia and the Transgender Assistance Program of Virginia. The event will take place from 4-9 pm, and is free, but does require registration. Click here to register >>
TIES Pop-ups will provide the best of what TIES has to offer, including …
… trans-affirming mental health & medical consultations
… name & gender marker change clinic
… employment readiness training
… how-to-tell-your-story advocacy workshops
… get to know community organizations & resources.
Learn more details about TIES Pop-up: Norfolk by visiting their Facebook event, here.
This event is co-hosted by Transgender Assistance Program (TAP),  which aims to end homelessness within the transgender community in the commonwealth of Virginia. Learn more about TAP by visiting their Facebook page.
Say Hi
LGBT Life Center will be at the event, and our staff, including our Clinical Director of Mental Health Services, will be on hand to answer questions; everything from gender marker change information to hormone therapy to services and support we can offer.
---
Q

&

A

with Vee Lamneck, Deputy Director, Equality Virginia

We caught up with Vee Lamneck (pronouns: they/them) to learn more about TIES, and why a roadshow is important and necessary:
Q:

WHY DO WE NEED TIES EVENTS?
A: It's really important for trans and gender diverse folks to feel a sense of community and to feel connected to each other. TIES creates a safe space for people to come together and be themselves. I hope that everyone who attends TIES events is able to walk away knowing at least one new person. While all of the information and resources available at TIES is important, the personal connections that people make can be even more impactful.
Q:

WHY DO WE NEED A TIES POP-UP IN NORFOLK OR ANYWHERE IN VA?
A: There are many reasons to host the local TIES Pop-Ups. One is logistical; for many folks, the burden of traveling to Richmond is too great. We hope that bringing the Pop-Ups to different parts of Virginia can help ease that.  We also want to show the strength of resources already available in the local community. There are so many local groups doing important work in Norfolk, and the Pop-Ups are an opportunity to highlight these valuable avenues of support.
Q:

WHAT DO YOU HOPE TO ACCOMPLISH WITH THIS EVENT?
A: From learning about healthcare options to answering legal questions, from accessing employment opportunities to gaining tips for advocating for pro-equality policies, TIES is about empowering the trans community. We want attendees to leave with the tools they need to live as their authentic selves.
Q:

WILL THE TIES POP-UP BE DIFFERENT THAN THE TIES CONFERENCE IN RICHMOND? HOW?
A: Put simply, the Pop-Up is a condensed, mini-version of the regular TIES conference – for example, the Pop-Up will offer only four workshops, while the conference in Richmond will offer closer to 30 workshop sessions. But, the Pop-Up will still provide many of the same resources that the Richmond event offers, including: trans-affirming mental health and medical consultations, a name and gender marker change clinic, and community building with local individuals and organizations.
Q:

DO YOU NEED LOCAL VOLUNTEERS?
A: Volunteers are the best and we could always use an extra helping hand – please email me (Vee Lamneck) if interested!
Q:

IF AN ORGANIZATION WOULD LIKE TO DISPLAY INFORMATION (TABLE), WHO SHOULD THEY CONTACT?
A: Send me (Vee Lamneck) an email at vlamneck@equalityvirginia.org
---
Connect with us!
Twitter.com/LGBTLifeCenter
Facebook.com/LGBTLifeCenter
Instagram.com/LGBTLifeCenter