On the heels of LGBTQ+ protections passing out of committee for the first time ever, LGBT Life Center joined Hampton Roads Pride, Transgender Assistance Program of VA, and New Life Metropolitan Community Church for Equality Virginia's Day of Action on February 4.
Fifty Hampton Roads residents joined us on a charter bus to go to Richmond and speak with their elected officials about the importance of these protections – everything from gender marker changes on government documents to school bathroom policies to employment protections. This is the most people we've ever had attend, and enthusiasm was high!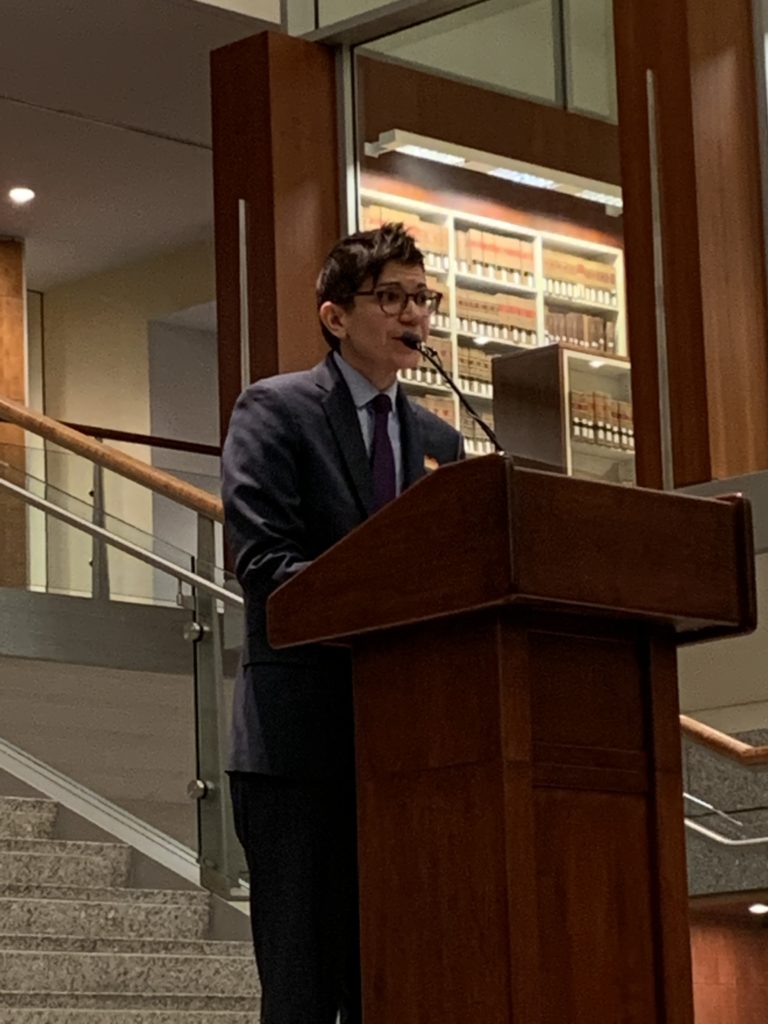 How a law gets made in VA
The Virginia General Assembly is made up of the House of Delegate and the Senate. Leaders are elected officials that serve 2 year-terms in the house and 4 year terms in the senate. A session of the Assembly is 60-day on even numbered years (i.e. 1996) and 30 days on odd numbered year (i.e. 1997). Sessions can be extended by 2/3rds vote of both houses.
How a bill becomes a law
A bill my be created by either the House of Delegate or the Senate. Bills are first submitted to a committee and then that committee must vote to bring the bill to a floor. In the past, LGBTQ protections have all failed or been blocked in committee and therefore have never made it to a full vote – until this year!
Once the bill receives majority approval in the committee it moves to the floor of the House or Senate where it is up for a vote. If more than one version of a bill passes, the bills are combined into one by the Committee of Conference, approved and then sent to the Governor for their signature, recommendations (suggested changes) or veto.
If the governor signs the bill it then becomes law. If they suggest changes it goes back to the Assembly (the House and Senate) where they have the opportunity to incorporate those changes (or not) and send it back to the Governor for approval (or veto).
If the governor vetos a bill, the Senate and House have the chance to overturn that veto by a 2/3rd majority vote.
For an in-depth understanding of the process click here >>
Bills We're Watching
Virginia Values Act
The Virginia Values Act aims to prohibit discrimination in employment, housing and public accommodation.
The house and senate have passed multiple versions of LGBTQ nondiscmination bills. 2020 is the first time these bills have made it out of committee, and the first time they've been voted on by both chambers.
Where is the Virginia Values Act currently?
The various versions of the bills will be reviewed by the Committee of Conference and revised/combined as necessary, and then sent to the governor for signature – the final step before becoming law.
Other LGBTQ Bills We're Following
Conversion Therapy Ban
Conversion therapy – sometimes called reparative therapy – is the discredited and harmful practice of attempting to change one's sexual orientation or gender identity. This philosophy is based on wildly outdated notions and bigotry.
Both the House of Delegates and the Senate have passed a version of a conversion therapy bill – the first time this has ever happened.
Back in November we sent a letter to all Hampton Roads elected officials asking them to ban this harmful practice.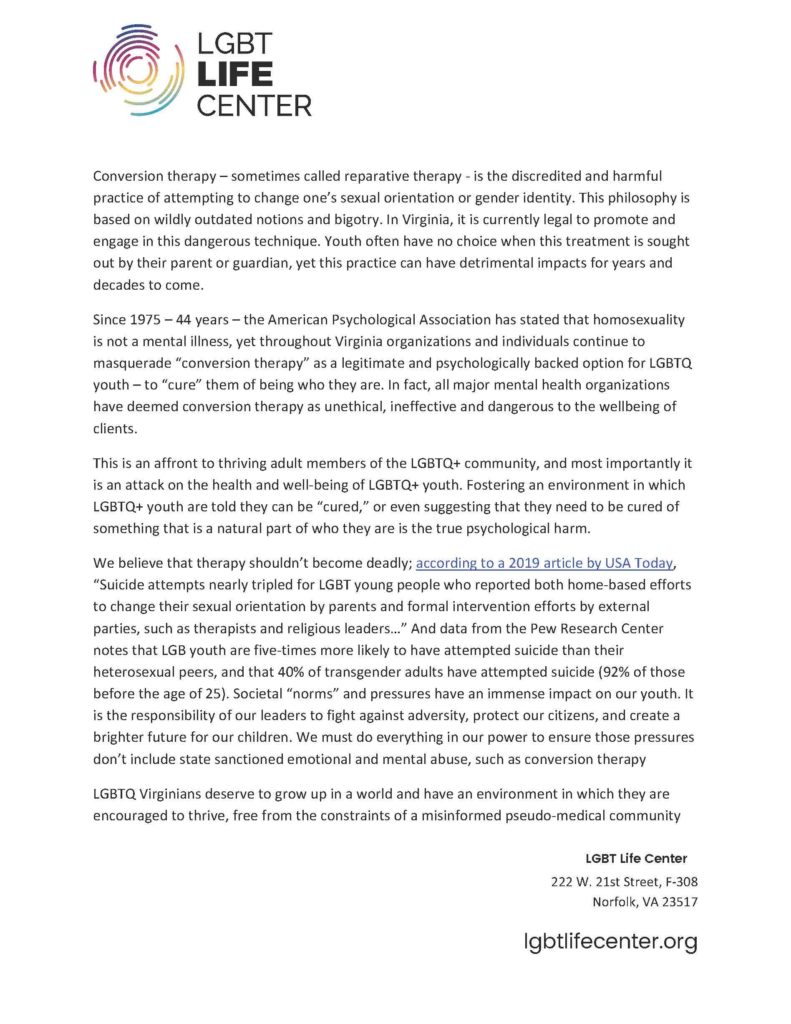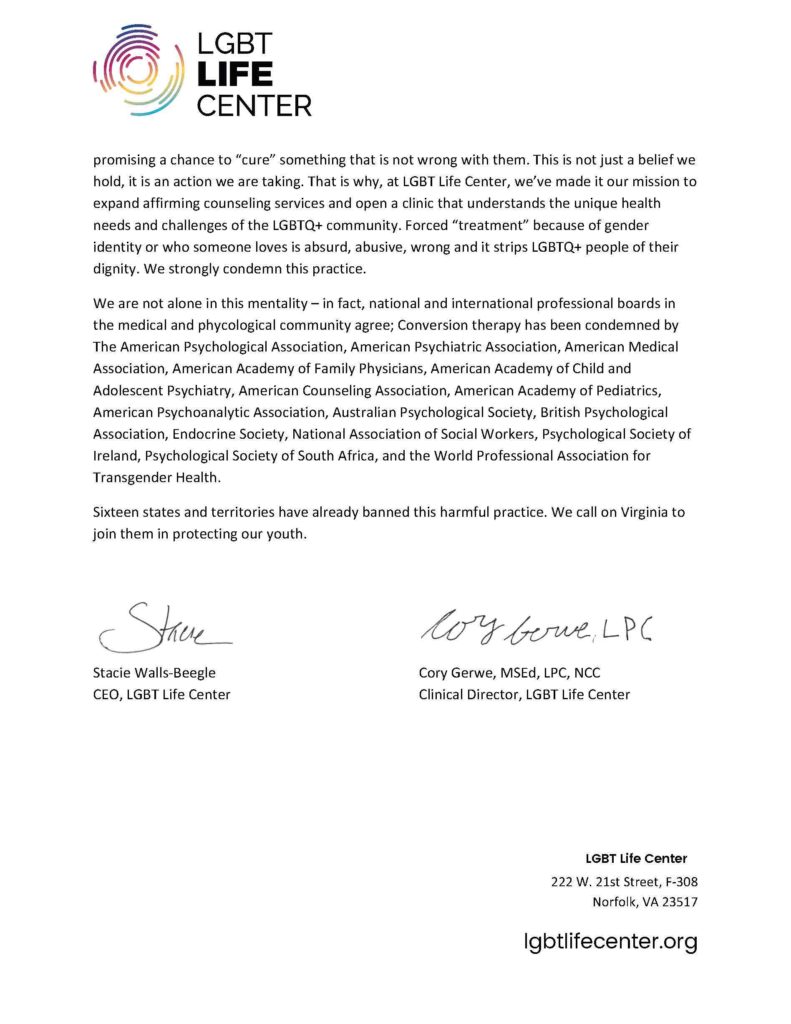 Transgender Health Insurance
This bill was introduced by Danica Roem and passed the house, but is in committee at the senate.

The bill "prohibits a health carrier from denying or limiting coverage or imposing additional cost sharing or other limitations or restrictions on coverage to a transgender individual on the basis that the individual's sex assigned at birth, gender identity, or gender otherwise recorded is different from the one to which such health services are ordinarily or exclusively available. In addition, prohibits health carries from discriminating on the basis of gender identity or being a transgender individual."
Updating Sex on Birth Certificates
This bill would require the State Registrar to up the sex on a birth certificate upon request, as well as a name change with a court order.
The Senate and House have passed versions of this bill. The houses' version of the bill is currently in committee in the senate – it is expected to pass.
Stay Informed
There are several great resources to help you stay informed. We love to follow Equality Virginia's tracking of these bill (and more) which you can access on their website here.
You can also follow along on your own by tracking bills using the Virginia Legislative Information System here.
Contact Your Legislator
Your elected official NEEDS to hear from you. When elected officials know their constituents (voters who live in their district) support a certain cause AND support it enough to make an effort to tell them about it, they are far more likely to support that issue/bill.
It's critical to the success of LGBTQ rights.
Who's your legislator?
You can find your local legislator (and their contact information) by clicking here.
Connect with us!
Twitter.com/LGBTLifeCenter
Facebook.com/LGBTLifeCenter
Instagram.com/LGBTLifeCenter
Sign up for our monthly newsletter by clicking here.
Did we miss something? Is there an error? Have an update or a comment or question?
Email us at info@lgbtlifecenter.org.