Guest Article written by Jori Hamilton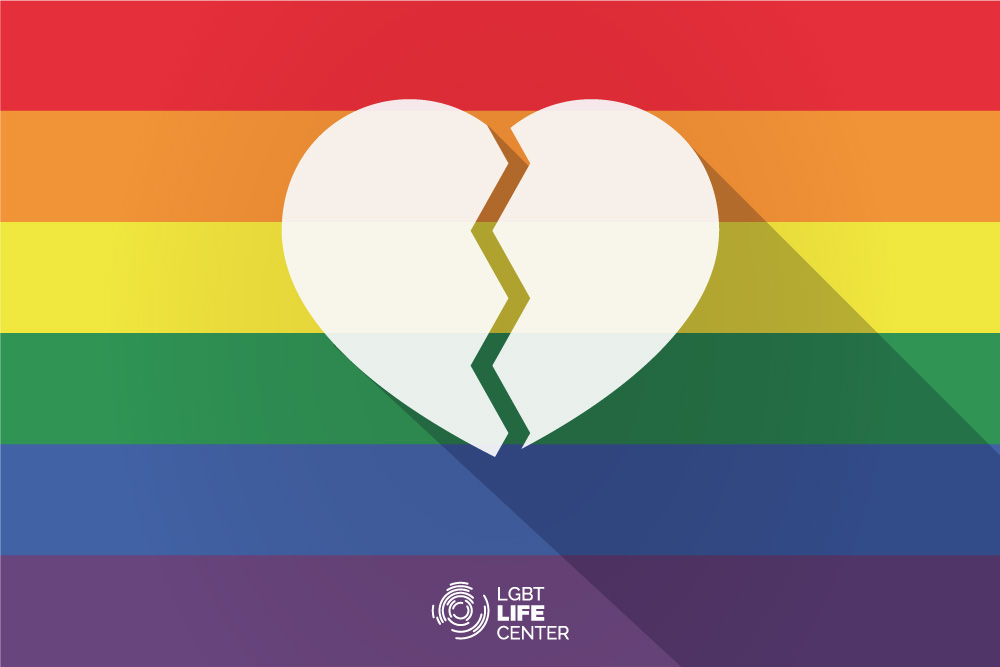 When you get married, commit to a commonlaw marriage, or go through a long-term relationship, the last thing on your mind is the potential future of parting ways. Unfortunately, even the strongest relationships can fall apart for a variety of reasons. Statistics show that members of the LGBTQIA+ community have a similar divorce rate to opposite-sex partners, and it's just as difficult for everyone involved.
Going through this eventuality, especially a divorce, is never easy, even if things end amicably. It can impact your children, friends, family, and even your career. However, it can take the biggest toll on your mental health.
A divorce is one of the most stressful events one can go through, and ending a relationship can lead to stress, anxiety, and depression. It might also feel difficult to get back to your "normal" self when you've lost such a major part of your life.
Thankfully, there are things you can do to improve your mental well-being both during and after the ending of a relationship. From reaching out for help to investing in small habits that can make a big difference, now is the time to make your mental health a top priority.
With that in mind, let's cover a few ways to improve your mental health during a divorce, so you can fully embrace the next chapter of your life.
Practice Self-Care
In all 50 states, the process of divorce for LGBTQIA+ couples is typically the same. However, some states require you to list a reason for your divorce. Working with a good family law attorney can help you through this process and make it easier to deal with any specific laws or rules surrounding divorce in your area. Throughout the process, you'll have to deal with things like
Splitting your assets
Alimony
Child custody issues and child support
Settlement agreements
It's no wonder going through a divorce often seems so overwhelming. If you're in the middle of a contentious battle or court case with your ex, self-care needs to be a top priority.
You might think it's "selfish" to think about right now, but if you don't take care of yourself every day, you're not going to be able to state your case as strongly in court. You'll run the risk of developing greater symptoms of anxiety and depression, and you'll also be more likely to experience fatigue, difficulty concentrating, and a lack of motivation.
Self-care looks different for everyone, but it doesn't need to be anything extravagant. Instead, find something each day that helps you relax and feel more centered. That could include anything from journaling to cooking a healthy meal. Things like mindfulness and meditation are also wonderful ways to center yourself and reduce stress.
Exercise is another great way to practice self-care, especially if you're struggling with depression. It provides a temporary distraction from thoughts of hopelessness, naturally boosts your endorphins, and can improve your self-esteem – something most people struggle with after a break-up of any kind.
Lean On Your Support System
Quality relationships are essential to a happy life. That includes non-romantic relationships. Now, more than ever, it's important to lean on the people in your life who are there to support you. Maybe you're worried about losing some friends or even the bond between certain family members because of your split. If people choose to "leave," let them go. As hard as it may be, they would likely only add toxicity to your life by criticizing you for your choice.
Instead, focus on the people who want to stand by your side, no matter what. That includes friends and family members, of course.
However, it can also be helpful to connect with others in the LGBTQIA+ community who have gone through similar situations. Even if you only chat with them via online support groups, it can be comforting to hear other individuals' stories. Not only will it help to remind you that you're not alone, but you might get the right piece of advice that can help you move forward.
Get Professional Help
Those in the LGBTQIA+ community are twice as likely to experience a mental health condition as heterosexual individuals. Maybe you were already dealing with depression or anxiety before the start of your divorce. Or, perhaps the process triggered symptoms that you've never experienced before.
Whatever the case, don't wait or hesitate to seek help for your mental health if you're really struggling. Talking to a therapist or counselor is a great way to get to the root cause of your symptoms, and can help you establish healthy coping mechanisms. You may even benefit from medication, and a therapist can help to determine what might work best for you. In addition to the effects of your divorce, therapy can help with things like
Grief
Confidence and self-esteem
Depression
Fear
Wellness goals
Some therapists specialize in LGBTQIA+ issues, and thanks to advancements in telehealth, it's easy to find someone that meets your needs and wants.
Whether you're ending a legal marriage, a commonlaw marriage, or a long-term relationship, realizing that it is over can feel overwhelming. Remember that although your relationship is ending, this is a new beginning for your life, and a chance to start over with a clean slate. As you navigate the legal process, keep that in mind, and you'll have an easier time prioritizing your mental health for the sake of your future.